Holler! This is the second in a series of posts that focus on advanced targeting tactics for your Facebook ads. Check out the first one on lookalike audiences here and the third on mixing them all together here.
In this post you'll learn:
That the ads that seem to follow you around Facebook are made with Website Custom Audiences
How to create them, and
Some of my favorite strategies for making more sales with Website Custom Audiences.
If you've got a pulse and a Facebook account, then surely you've noticed the ads that "stalk" you. I'm talking about the pair of shoes you looked at on Zappos that keep showing up in your News Feed. Those flight prices you found that keep following you around in your sidebar.
Sometimes you may even see them twice in the same place!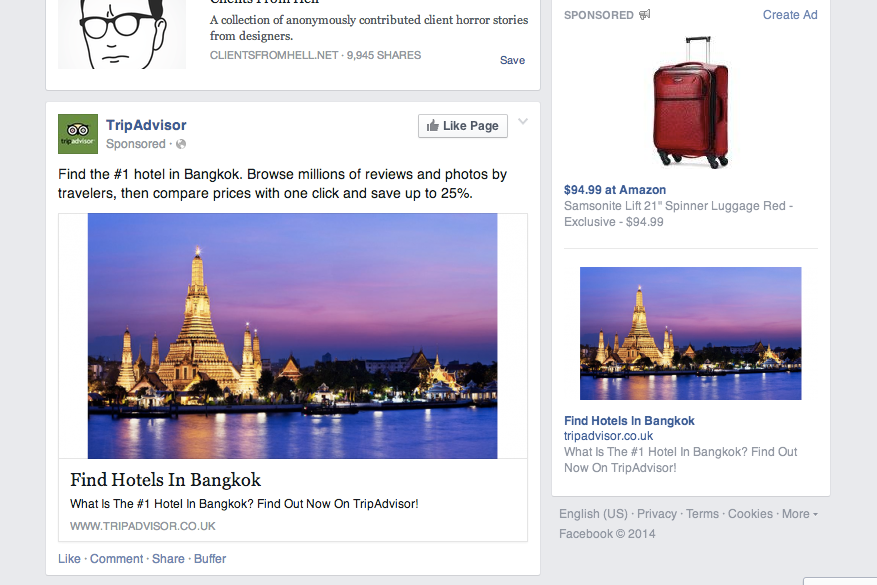 (Wow, I'm getting hit by all kinds of stalker ads in this screenshot. First the suitcase on Amazon and then the hotels in Bangkok! Can you tell I'm getting ready to take a trip?)
Any ads that get triggered by visiting a certain website and follow you around on other sites are known as remarketing or retargeting ads.
In order to run remarketing ads within Facebook's own advertising system, you need to create one or more Website Custom Audiences (sometimes known as WCAs).
Creating a Website Custom Audience involves two separate steps:
1. First you have to add a specific piece of code – known as a pixel – to your website to capture visitors' information and store it in your advertising account.
2. Then you need to segment those visitors based on which pages they did or did not visit on your website.
GET READY: I'm about to hit you with a WHOLE lot of screenshots in order to show you how to get through both of these steps. You might want to open up your own advertising account right now – the sooner you put the pixel in place, the sooner Facebook starts collecting people for you to gently stalk with your ads. :)
Step #1 – Get Your Facebook Pixel Set Up
The instructions for this step vary a bit depending on what you've built your site or page on. Open up one of these posts in a new tab and follow those instructions:
Then come right back here to continue on to . . .
Step #2 – Tell Facebook How You Want to Segment the Visitor Data It's Collecting
Now that your Facebook pixel is set, you need to create a rule for Facebook to follow so it can group your website visitors into specific audiences. Each of those rules is its own Custom Audience.
Let's say you want to target people who visited the sales page for your product or service but who didn't convert. The url for this example is yourwebsite.com/salespage1.
1. Click on the hamburger menu at the top left of the Ads Manager. Hover over All Tools, and then select Audiences (found under Assets).

2. Click on the blue Create Audience button on the left side, and select Custom Audience.
3. Choose Website Traffic from the list of options.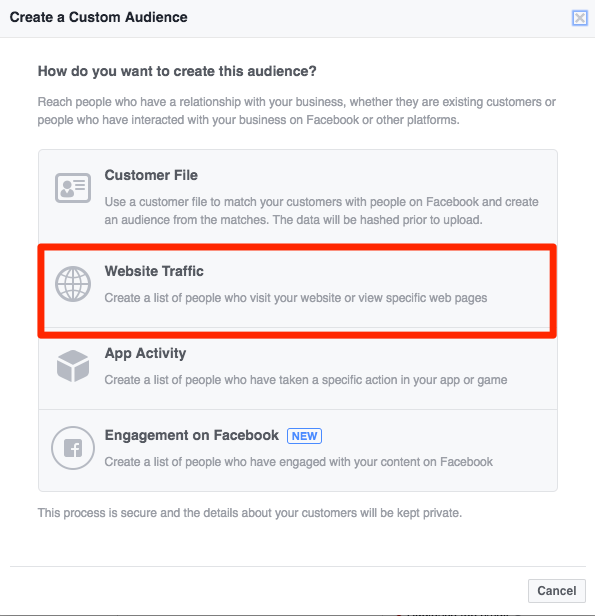 4. Give your audience a name like Sales Page Visitors.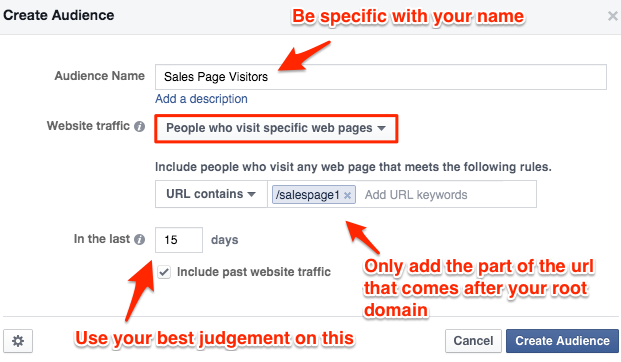 5. In the dropdown menu next to Website Traffic, select People who visit specific web pages.
6.. This is where you add in your rules. You want this audience to include just sales page visitors, so add /salespage1 next to URL contains.
7. Determine how long you want Facebook to keep a visitor in your audience. Let's say you have a campaign running to get people who visited your sales page to come back and purchase. I visit your sales page on January 1. I start seeing your ads probably on January 1 or 2. How long do you want to keep showing me the same ads?
Personally I feel like a month of the same call-to-action, even if they were different ads, is too long. You don't want people to get so sick of you that they choose to hide all your ads! If they haven't converted after a few weeks, they probably aren't going to. I like to select 15-21 days.
8. Leave the Include past web traffic box checked, and click Create Audience.
How to Use Your Newly Created Website Custom Audience
Whenever you want to use a Custom Audience in your targeting – including lookalike audiences and WCAs – they always go in the same spot when putting together your campaign: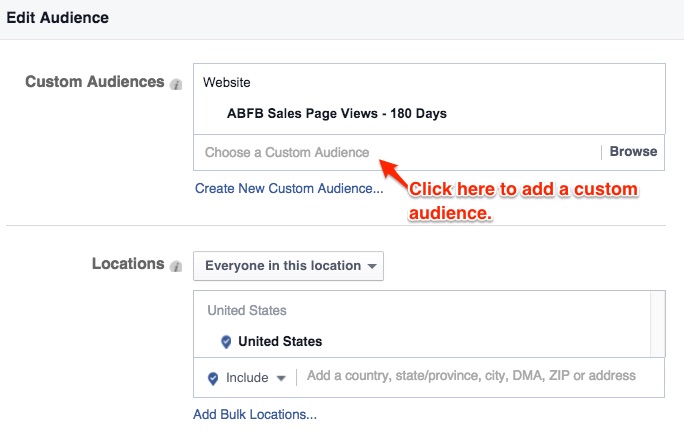 You can also use WCAs to exclude people from your targeting.
You could create an WCA that includes anyone who saw your "thanks for your purchase!" page using the same process we walked through for your sales page. Then you could exclude all those people from your targeting so that anyone who has already converted won't see ads promoting that same product.

A Few More of My Favorite Strategies for Using Website Custom Audiences
There are lots of different ways you can use retargeting to re-engage visitors to your website on social media. For example, you could:
Target people who have seen your landing page but didn't opt in with ads reminding them about your (awesome) free content.
Target people who have seen your sales page but didn't buy with ads that give them a way to ask you questions about your product. Here's an example: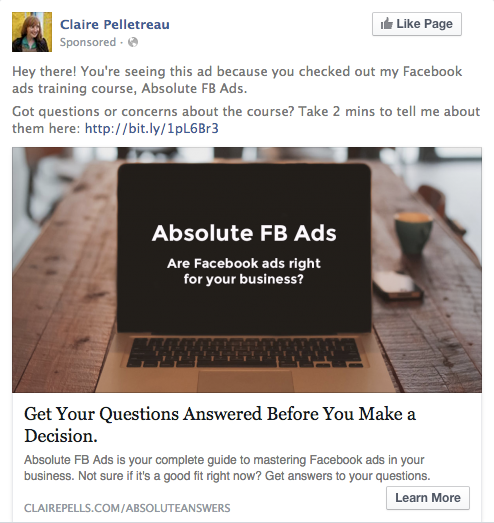 Target people who have seen a specific blog post (maybe one that addresses objections to your product or service) with ads that drive them to the sales page.
Target people who have seen your sales page but haven't converted with ads that drive them to a page full of testimonials that also has a "buy" button.
Target people who have visited your blog with a Page Like ad to build up your fan base.
Target people who have found one of your posts via Google with ads showing more of your best blog posts.
Target people who have seen your sales page with ads reminding them that enrollment/the cart is about to close!
PHEW. That was a lot to take in, I know. But that's everything you need to know to start adding Website Custom Audiences into your Facebook ad strategy.
But please remember:
Just because a targeting strategy exists does not mean it's the best fit for you or your business. If you're still struggling to understand the basics of Facebook ads, don't bother yourself with WCAs just yet. Get comfortable with basic targeting and come back to this later.
Got it? I hope so.
Hit me up with your questions in the comments below!