Marketers around the world are cheering – Instagram ads are available for all of us! Have you played around with them yet?
If not, I want to lay out the absolute basics you need to know just to get started. I have to hand it to Facebook – they've integrated Instagram ads really well into their advertising interface. If you're comfortable setting up a regular Facebook ad, then this will be a piece of cake.
Here are the 6 most important things you need to know as you get ready to run your first Instagram ad campaign:
1. The first step is to connect your Facebook page to your Instagram account.
Go to your Facebook page and then click Settings at the top right.

Then click on Instagram, and then on Log In. Follow the instructions there to connect your account.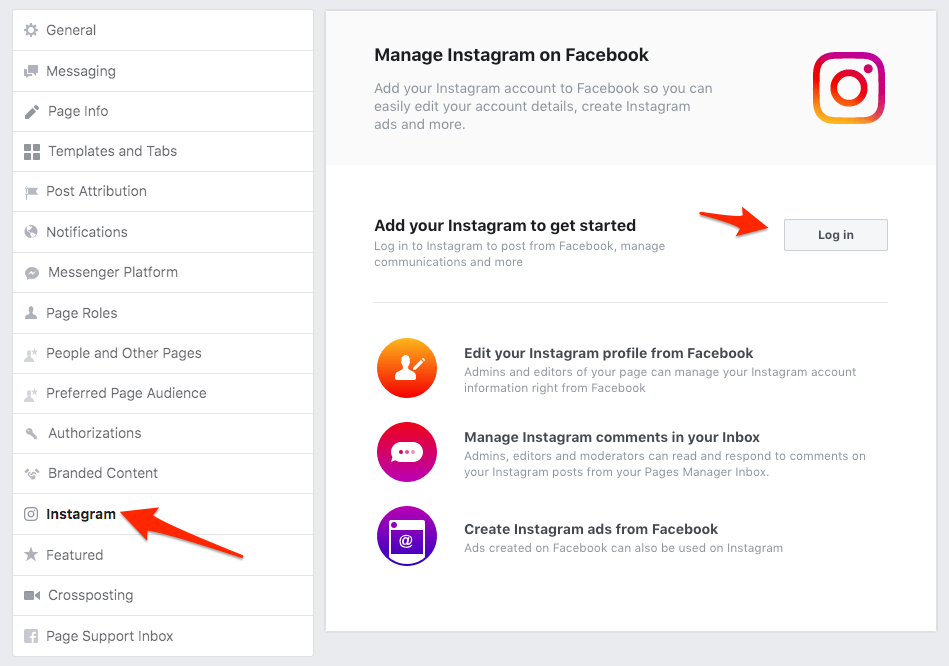 Note: adding your Instagram account to your ad account isn't enough. I tried to do this from inside the Power Editor and got really turned around. Make sure your Instagram account is connected to your page before you try to create the ad.
2. You can create your Instagram ads inside Facebook's Ad Manager interface.
You'll create a campaign, at least one ad set (see below), and at least one ad.
Note: For the moment, it seems like you can't do any nice line breaks in the text of your ad to make it easier on the reader. So the text below your image will show up as one block of words. The solution to this is to add some kind of character or emoji between lines if you want to break them up.
3. Your Instagram ads should always go in their own ad set.
Your campaigns will have the same 3 elements as Facebook ad campaigns do: the campaign, ad set(s) inside the campaign, and ad(s) inside your ad set. (Kinda like those Russian nesting dolls! Read more about this structure here.)
In a normal Facebook ad campaign, you might run the same ads on both the Desktop News Feed and on the Mobile News Feed. Your ads' format works well in both of these "placements" as Facebook calls them.
But if you tried to run the same ad on Instagram as you do on Facebook, the image dimensions would make it look rather odd. Check out one of my current Facebook ads converted to an Instagram ad: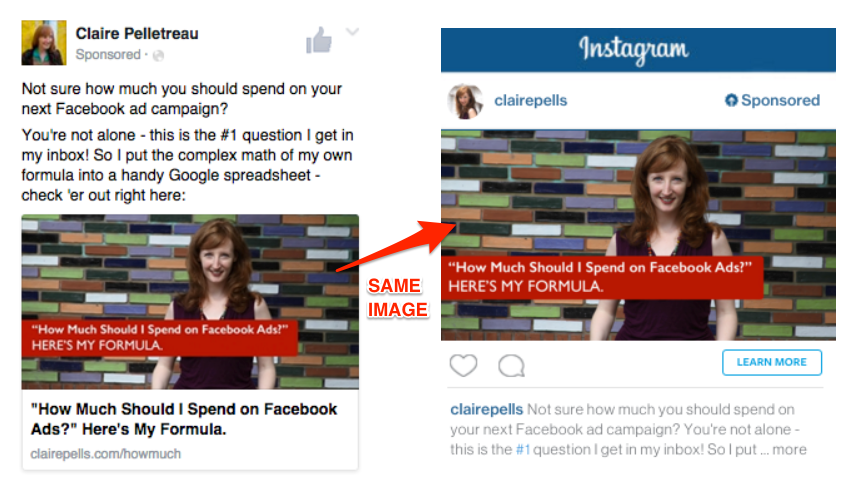 It's not HORRIBLE, but I definitely prefer square images on Instagram. So I've redone this ad with a different image (that also passes the 20% rule):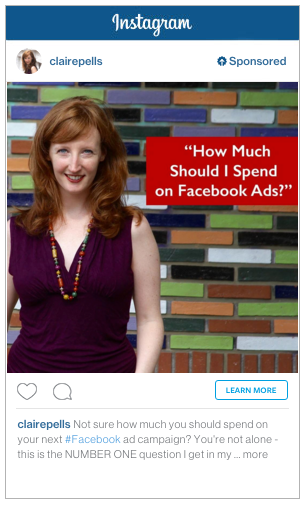 One note: Facebook has recently launched a feature that allows you to choose a specific image JUST for your ads on Instagram. That means you can choose "Automatic Placement" at the ad set level and use the same copy for all your ads. All you need to do is select a different image for Instagram.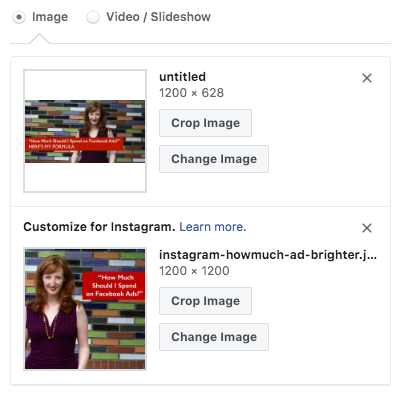 4. Track your ad results using the Facebook Pixel and custom conversions. 
If you're sending people to a page on your site, then you'll want to be sure the Facebook Pixel is in place and you've set up either standard events or custom conversions to track things like opt-ins and purchases. Here are some posts with detailed instructions on implementing the Pixel if your site is built on:
5. You'll see the performance of your Instagram ads in Facebook's Ads Manager.
The results of your Instagram ads and details about the important metrics are (for the most part) easy to read in the Ads Manager. 
Two things I recommend paying attention to are your CPM, or cost per 1,000 impressions, and your Click-through Rate (CTR) Links. Some people find that it's cheaper to get their ads shown on Instagram, but you'll want to see if you're getting a better or worse click-through rate on the link in your ads compared with your ads on Facebook. 
6. Consider Instagram Story ads. 
Even if you're a total advertising beginner, Instagram Story ads just might be the way to go. They're incredibly simple to put together and people are seeing incredible results from them. Check out a complete tutorial on how to set them up here:
Are you clear on what ad strategy to use to actually make more sales in your business?
Yes, running ads can help you grow your audience and make more sales, but only if you go into it with a clear understanding of why you're promoting each thing, and where it fits in the bigger marketing picture. 
Discover the specific Instagram (and Facebook) ads I use every month for myself and my clients in this free masterclass: clairepells.com/optin-5ads