Today's post is by Kathleen Cutler, an alum of my Ad Consultant Incubator training program. I wish I could say I played some role in the outstanding campaign she outlines in this post, but this was all Kathleen! Pay close attention if you're trying to sell physical products with Facebook ads.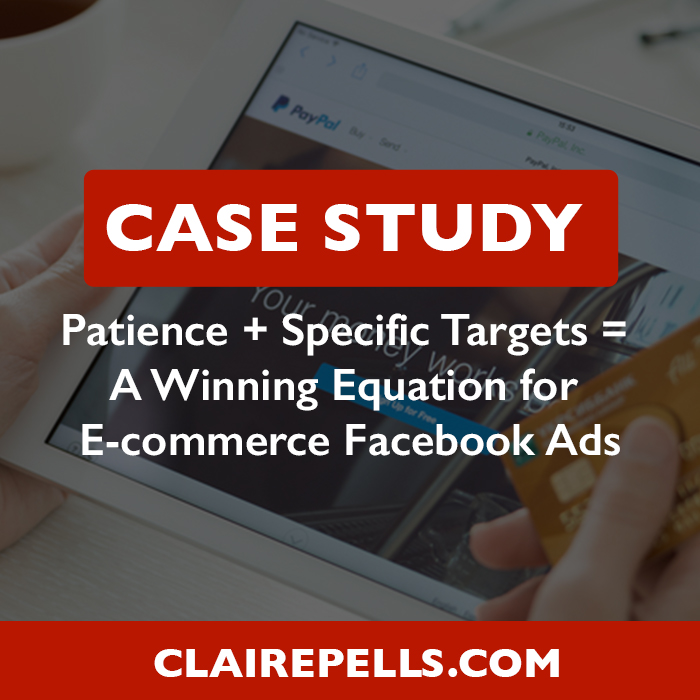 Creating super targeted ads to a niche audience is an amazing way to convert eCommerce traffic into sales. However, it is not as easy as some marketers might have you think. There are some critical steps that you can't miss, otherwise you risk leaving money on the table.  
These ads can be some of the toughest ads to create, as you have to be in it for the long game. However, if you play your cards right and follow the guidelines below, you can have impressive, measurable results.
5 Key Components of  Winning E-Commerce Facebook Ads:
Hyper-Targeted Audience
Carousel Ad with High Quality Photos
Build Credibility With Concise Copy
Consistent Monthly Ad Spend
Post-View Retargeting
It's worth noting this technique may not work for every e-commerce store. My goal is to simply encourage you to think about how you can figure out exactly where to target your ad, what to include for images and, most importantly, how to overcome purchase objections before someone even clicks on your ad.  
To demonstrate, I'm going to walk you through a case study of my own. I'll show you how a $7.50 per day spend in a super niche market generated a 40% increase in sales by utilizing the five key components listed above.
What We Promoted 
Market Square Jewelers is a multi-million dollar antique and estate jewelry company. When they first launched their website, they had very little brand awareness and were in a fiercely competitive market. To help raise awareness, we launched a Facebook ad campaign to drive people to their website based on their most popular and iconic items– their antique and estate engagement rings.
Research showed that while men are often involved in the purchase of engagement rings, they are not the primary researchers and influencers in the purchase process, nor are they particularly enthused by the planning process in general. To address this, I created a targeted Facebook ad campaign towards those female users. In particular, those who had already shown a demonstrated interest in engagement rings.
Over a 45-day period and on a minimal budget, the campaign generated a 1,631.63% increase in referrals from Facebook, and most importantly, a 40% increase in sales during that period.
What do the results look like 180 days later? The ad is still going strong:
Total Spend Since May 2015: $1,495.88
Reach:  277,580
Impression: 478,928
Clicks: 25,653
Click through rate: 5.36%
Cost per click: $0.06
Step 1: Hyper-Targeted Audience
One great thing about doing business online is there are often competitors in your niche who are selling a VERY similar product. Therefore, making it easy to to get to the heart of your competitive space and plan your attack.
For this campaign, my client was selling high-end antique engagement rings: a highly specific market with very unique interests at a once-in-a-lifetime moment in their lives.
In response to this unique target, we could have created a complex campaign filled with interests matched with audiences, but instead we decided to create ads targeted at one very specific demonstrated interest: Brilliant Earth– a leading seller of diamond rings, with a growing sector of antique and estate diamond rings. In other words, our biggest competitor.
Why this worked:
Brilliant Earth matched multiple criteria across a range of questions that proved it was a similar fit in terms of target audience. They had a large, highly engaged Facebook following of over 1,000,000 fans: a critical number, as I knew I wanted to run this ad for many months and wanted to avoid it being shown repeatedly to a small group of people.
The most unique similarity we shared was a "quirky" behavior and attitude towards buying a diamond ring. According to their website, Brilliant Earth was co-founded by Beth Gerstein and Eric Grossberg, who met at Stanford University. When Beth was about to be engaged, she experienced firsthand the challenge of finding a conflict-free engagement ring that represented her values.
"Represented her values" is the key phrase here. Customers buying antique engagement rings are often doing so because they are highly value driven individuals. They don't need the biggest diamond, so targeting a company that sells perfect, large diamonds like Forever Mark wouldn't be a good fit. People who are searching for a mass produced diamond (like Kay's or Jared's) would also be out. We knew our target would settle for no less than having a unique engagement ring that fully represented their values.
Engaged fans, a large audience and a niche match all the way down to individual customer values; it's this level of detail that makes this type of targeting successful.
Make this work for you:
Write down 5 competitors who share the same values as your target customers. Take the time to delve deep into what they are truly looking for when buying your product.
Pro Tip: Use Facebook Audience Insights to get to know your competitions Facebook fans and understand exactly what they value and to see if it is a good match. Get started with this Audience Insights tutorial.
Step 2: Carousel Ad with High Quality Photos
If you run an e-commerce store, you know exactly how important high-quality photos are to making the final sale.
When someone can't touch the piece, they are forced to rely solely on the detail of the photos. This is especially true when the pieces are extremely expensive.
There's no place where this rings truer than in Facebook ads when people are scrolling through looking for engaging stories, photos and memes from their friends, not looking for advertisements from retailers. There are two options when you want to get a potential client to stop scrolling: You can either create a native ad that mimics the look of an engagement ring post from a friend or you can use beautiful, eye-catchingly detailed shots.
In order to look professional online, amazing photos are a non-negotiable.  For that reason, I always recommend that my clients choose the most stunning photos from their shop when picking out shots for your Facebook ads.
Make this work for you:
Choose your five favorite, most iconic shots from your store. Put them through photoshop if needed or outsource to a professional who can make sure they are as high-quality as possible.
Pro tip: Create a carousel ad of five photos and let Facebook optimize the most popular photo first.

Step 3: Build Credibility With Concise Copy
The very best thing you can do with your eCommerce ad is create copy that overcomes common objections.
"Looking for an antique engagement ring? With over 30 years of experience, we can help you."
First, the ad starts off with a question. Asking a direct question will help get more qualified traffic as we know that people are actually looking for an engagement ring.
Secondly, the ad copy immediately addresses objections. The most common objection when buying online is: "Can I trust this purchase?"
In an e-commerce setting, it's incredibly important to establish trust with your customer. In a physical store, trust is easily earned. The customer will address any concerns directly with a live sales associate and happily walk out the door with their purchase. However, in an online setting, it is much more difficult.  
This is especially true when selling very expensive items. When selling a diamond engagement ring ranging upwards of $20,000 dollars, the trust factor is essential to making the sale.
By including "With over 30 years of experience," we've addressed the first and second objections: "Will I receive the purchase?" and "Can I count on this business being in business if I run into a problem?". With so many fly-by-night businesses online, it is comforting to the customer to know that they been operating successfully for 30 years, showing they have a proven track record.
Closing with "we can help you," also addresses a common objection in online sales: "Will I get the personalized attention shopping online that I would get in a physical store?" By directly dealing with this objection, we reassure the purchaser that they are in good hands.
Make this work for you:
Write down 10 common objection you can expect from your customers. For example, if you're selling a heavy product, you can talk about free shipping. If you're selling a product that is often given as a gift, you can talk about your easy returns.
Pro Tip: Interview 5 customers about common objections and how they decided to purchase from you. Not only will you get some testimonials to use on your site, but you will also get their exact language around common objections.
Step 4: Consistent Monthly Ad Spend
This ad ran for over 225 days (and at the time of writing, is still running). Here are the stats:
Reach: 277,580,

Impressions: 478,928

Clicks: 25,653

Click through rate: 5.36%

Cost per click: $0.06

Ad shares: 69

Comments: 56

Likes: 4,252

Total Spend Since May 2015: $1,495.88
We moved the ad spend up to $15/day, but then pulled it back down to $7.50/day, where it has been since. I've kept a close eye to make sure the CPC didn't increase, but so far, it has held steady.
The advantage of having a consistent ad spend over the course of many months is it keeps a constant flow of people coming into your e-commerce store.
This type of ad also has organic reach. Most comments were people sharing our ad with other people on Facebook. If we only let the ad run for a month, we wouldn't have had the same amount of impact.
It's for this reason that I always encourage my clients who want to run e-commerce Facebook ads to commit to being in it for the long haul and plan accordingly to be spending consistently over many months.
Make this work for you:
Instead of budgeting a large sum for one month, consider strategic flighting and spending a smaller amount of money over 6 months. You can always increase or decrease your spend over time. Having a consistently running ad can help overcome the trust objection with your customers.
Pro Tip: Choose a big audience and keep a close eye on your CPC (or cost per conversion) to make sure that it doesn't increase over time.
Step 5: Post View Retargeting
Over the long-term, you can set up a retargeting ad that is shown to everybody who hits your website. There is a reason that big companies like Amazon and Staples have retargeting ads that follow you all around Facebook and the internet:
They know that retargeting ads work.
It is common for someone to disengage before making the final purchase during the sales process. This could be due to anything from not being able to find their wallet to not feeling ready to commit to the item.  
By creating a retargeting ad that reminds them about their interest in your item or continues to overcome objections, you are much more likely to make the sale.
Make this work for you:
Create a simple ad that reminds them about what you offer. At this point, they are already warm traffic, so you don't need to explain who you are as much as remind them you are ready to work with them. You could even use a customer review here to overcome an objection and show social proof that other people have purchased from you.
Pro Tip: Set up your retargeting, so that you can target people who make it to your shopping cart, but don't make it all the way to the purchase page. You can give them a special coupon to re-engage them and win them back as customers.
So tell me: have you tried e-commerce ads? Can you see yourself incorporating these steps into your ad strategy?
About the Author: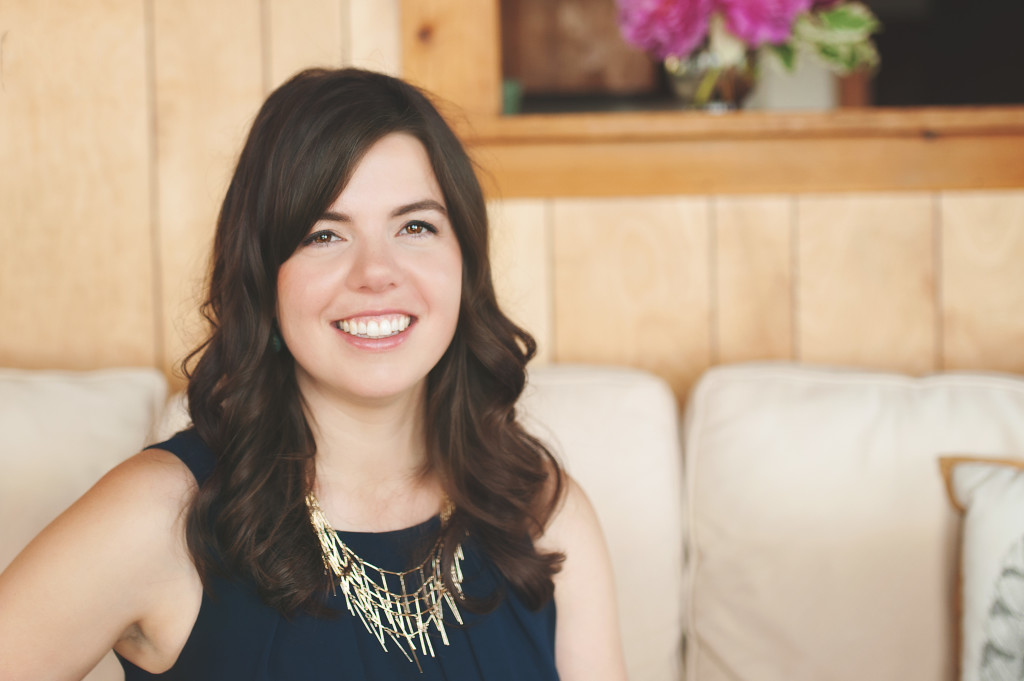 Kathleen Cutler has spent the past nine years supporting various clients, from a multi-million dollar antique and estate jewelry company to coaches and yoga teachers creating ads to fill courses and make sales.
Combining her natural skill set with serious know-how, she's built a successful business helping an international community of entrepreneurs reach their goals and serve their dream clients, one step at a time.
When she is not working magic on your business, you can find her drinking too many double espressos or exploring the mountains with her husband. Be sure to join her for all things online business at kathleencutler.com.