There are a LOT of tools out there for you to use in your online business. And I'd venture to guess that there are even MORE business-related coaches than tools.
Since I started my business at the beginning of 2014, I've worked with a handful of coaches and shelled out thousands of dollars for the different tools I use to get myself paid.
But I wanted to highlight just a few that have made a huge impact for me this year, and to give a little insight about what I'm using each of them for.
Jump to read more (since no one has ever accused me of writing short posts):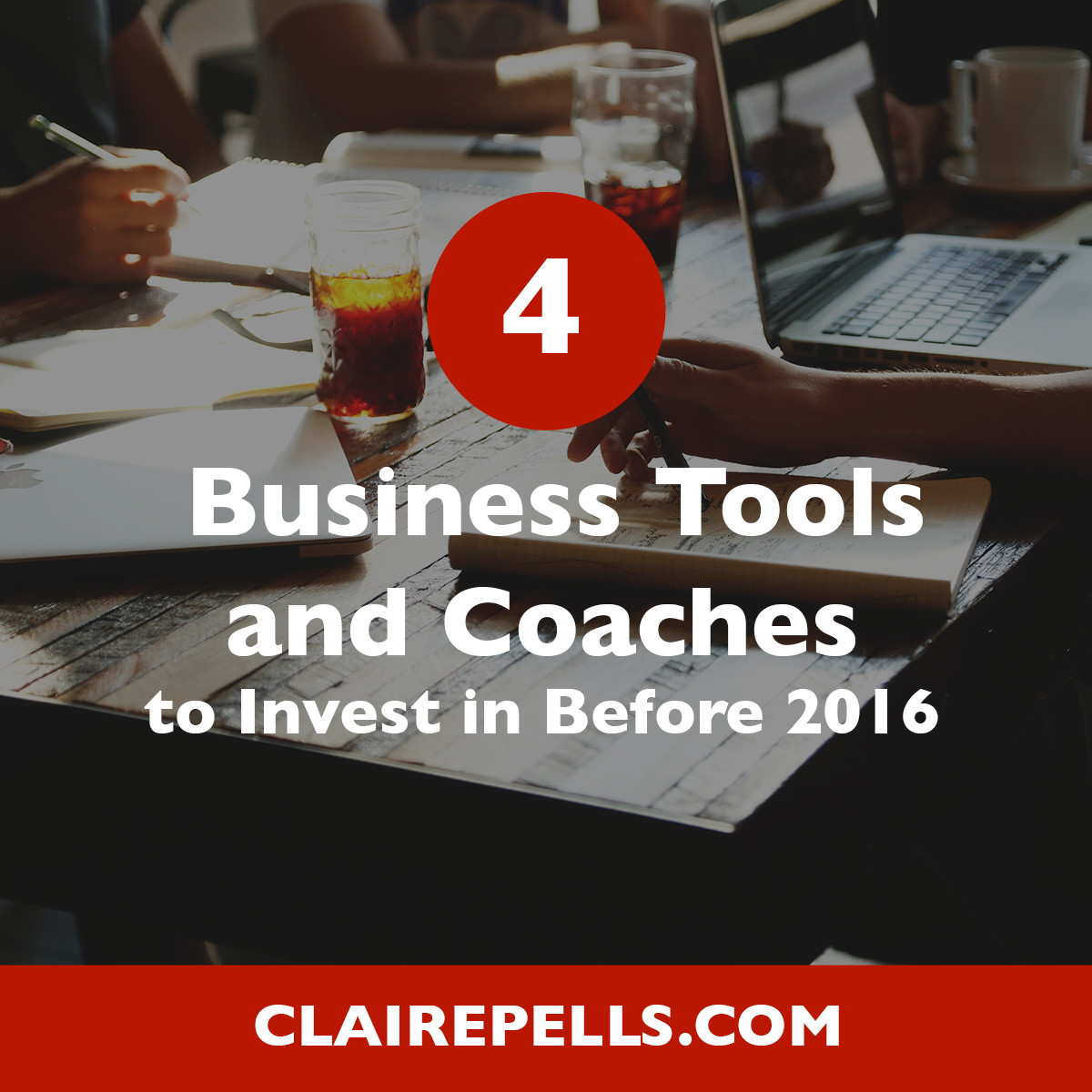 I had ConvertKit on my wishlist for a LONG time. Until May 2015, I used Mailchimp for all of my newsletter/emailing needs. I was generally pleased with Mailchimp – it was really simple to use – but I started paying for it almost from the beginning. The paid plans are the only way to access their Automation feature, formerly known as Autoresponders.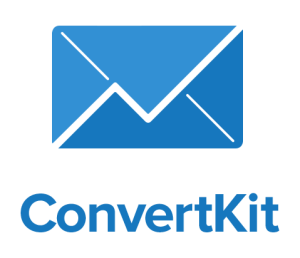 If you'd like to send out one or more emails automatically based on some particular action your subscriber has taken, you need the Automation feature. That means any nurture sequence for new subscribers that you use to give people a taste of your business, sales emails for an evergreen launch (meaning that not everyone on your list goes through the launch at the same time), or even just the course emails that you send once someone purchases your product.
What held me back from switching to ConvertKit was the price, but they redid their pricing structure in early 2015. Then it was a no brainer – I just wish I had switched much sooner! I ended up paying Mailchimp way more than was necessary since they may count one subscriber multiple times, so long as that person is on different lists.
ConvertKit is $29 per month if you have 1,000 subscribers or less, and then $49 per month for up to 3,000 subscribers. So if you're paying Mailchimp $20 or more, think about making the switch and get access to a lot more features.
"What's different since you started using ConvertKit?"
The short answer? A lot.
Here's a succinct version of the long answer:
I have SO much information. I can tell you that my pop-up has converted 1.4% of people who've seen it to new subscribers. That's a higher conversion rate than my sidebar form, which only converts at 0.7%. I was going to get rid of my pop-up, but that data has made me reconsider.

People can opt-out of certain things without completely unsubscribing. I've got a few tags set up that I can apply to subscribers who don't want to hear any more about the podcast or about specific promotions. ConvertKit lets you set it up so that if someone clicks on any specific link in your email, they'll automatically be tagged. Then I can exclude the segments of people from receiving other emails, thus maintaining a solid relationship with them.

I can easily direct people into different sales funnels depending on how they got onto my list. So if I brought back The End of the Boost Post button training, I could easily send those new subscribers a different nurture sequence than the one received by everyone who signs up for my free guide to Facebook ads. AND if they've already gone through one automated sequence, I can prevent them from receiving another one that covers similar material. Here are the details on one of the evergreen sales funnels I've used now that I have the incredibly functionality provided by ConvertKit. 

It's really easy to use. Sending out a weekly broadcast email takes me about 5 minutes total (including a test email to myself).
All the Mailchimp features that were missing from ConvertKit when I made the switch have since been added. Nathan Barry and his team are dedicated to building a product you can really use, and they keep integrating it with other software and rolling out new features to make it even more robust.
What you won't find with ConvertKit:
A membership site. I have no idea if they have any plans to build that in, but I kind of doubt it.

A built-in affiliate management system. Now that Gumroad lets you use affiliates (and since Gumroad and ConvertKit integrate seamlessly), this is no longer a feature I'm too worried about.

Drag-and-drop landing pages. The opt-in pages you can use with ConvertKit are 100% customizable with CSS, but if you're not sure how to do that, you'll have to settle for picking your favorite color and background pattern to fit into one of their themes.
I know there are a million options for email marketing providers, but upgrading to ConvertKit has really helped me execute much more advanced marketing strategies. And I'm among great company – Pat Flynn, Tara Gentile and Regina Anaejionu have all recently made the switch.  
Filing my 2014 taxes was eye-opening for me. For 5 whole months, I had been paid a salary that was decent by U.S. standards. And then the rest of my income came from my business. When I saw that my total income for the year was only about $25,000, I knew I had been completely blind about how much my business was actually making.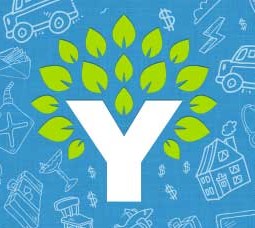 What about that one month I made over $5K?? And the other months that were close to that? Wait . . . WERE there months that I made close to that? Considering how much I was spending on my business, I sure thought there were.
So 2015 was supposed to be different. And I was really good about keeping track of my revenue and my expenses on a spreadsheet.
Yet almost every month when it came time to see what my take-home pay would be, I was devastated to see that box with such a small number in it. If I was keeping track of everything, why did it feel like I was barely paying myself anything?
Here's why: I let my expenses get away from me.
As I watched my PayPal and Gumroad balances grow from Absolute FB Ads sales or client work, I started hiring more contractors and justifying more expenses. Every time I saw a new sale go through, I'd think, "great, now you can spend $100 more on ads."
What I was ignoring was that I needed that $100 to pay for my tools or my assistant. It was as if I just expected those expenses to be covered by . . . I'm not sure what.
The idea of budgeting software made me want to roll over and close up shop forever. It was something that only broke people did, or people who had to pay off lots of debt. (AHEM. I'm still paying off student loans. I really should have started budgeting  10 years ago.)
I'd heard the concept of You Need a Budget (a.k.a. YNAB) on a podcast: every dollar is given a job to do.
But I couldn't grasp that concept until I broke down and bought the software. Now moving things around in my budget is one of my favorite procrastinating tactics: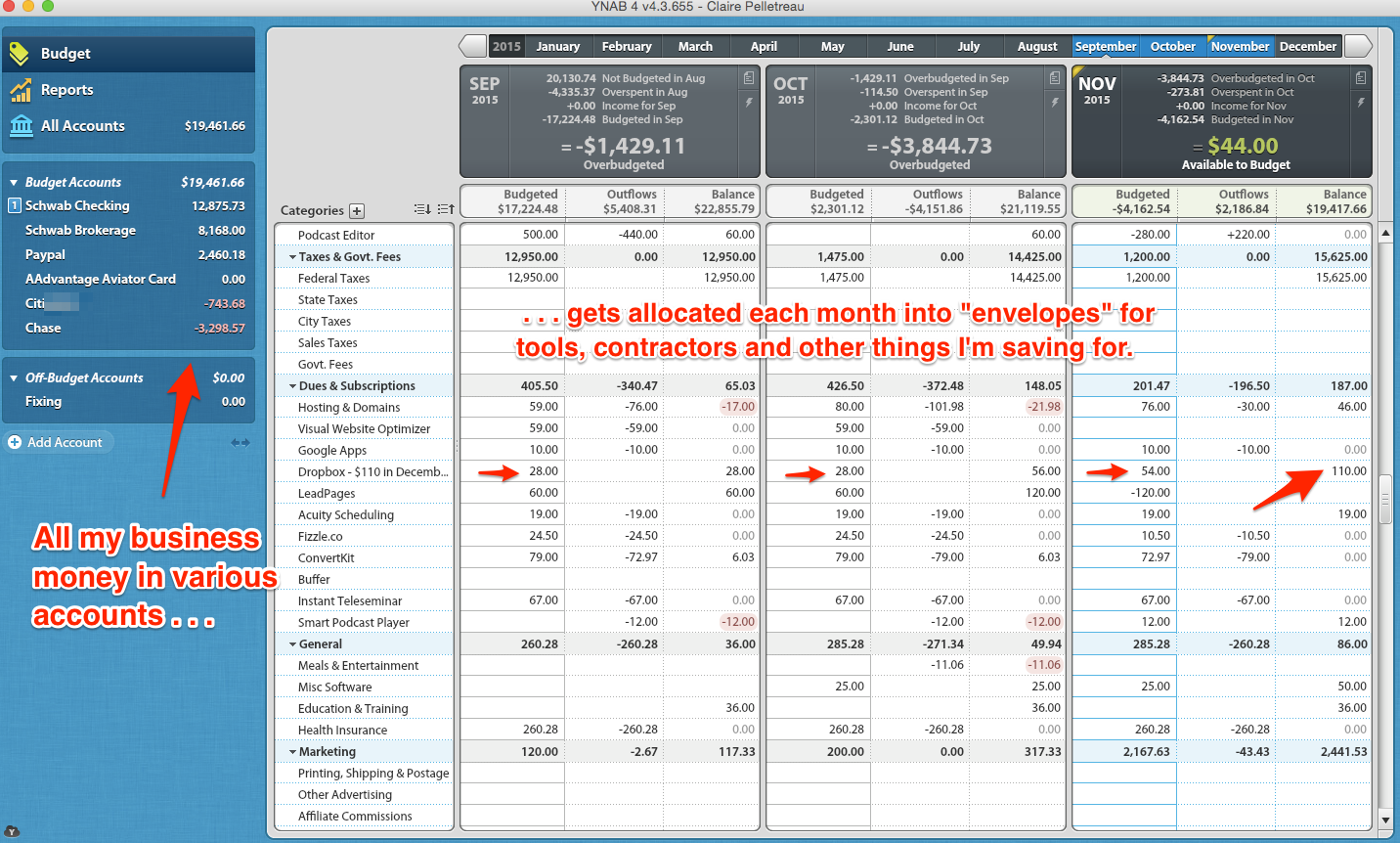 You take all the money in your business accounts and you assign it to different expenses. You also assign it to yourself, meaning you make sure you get paid. The idea is that you get down to zero budgetable dollars; if you go below zero, your funds aren't covering your expenses plus owner distributions (or what you pay yourself).
This is my favorite use of YNAB, though: I'm actually saving for future expenses.
For example, in December Dropbox is going to charge me $110 to renew my account with them. Before YNAB, I would get that charge I wasn't expecting on my card, and that would be $110 less that I'd get to pay myself.
But since I've been "putting away" money to pay Dropbox since September, that $110 is sitting there in my bank account waiting to pay for my Dropbox subscription. I'm not spending it on Facebook ads. I'm not using it to pay for Acuity; Acuity's got it's own virtual envelope.
So that charge from Dropbox won't affect me or my budget at all. Theoretically I should be squirreling money away for my next phone or plane ticket that I'll inevitably buy, but for now I'm focusing on charges I KNOW are coming.
The Only Problem
While YNAB has a lot of great training videos, I was fortunate enough to get some professional help in setting it up for business purposes. You may want to look into that, although I'd start with their blog and support people first to see if you can get what you need for free.
The You Need a Budget software costs $60. It was some of the best money I've spent this year. YNAB has changed its business model to a monthly subscription, but I will HAPPILY pay $50 a year for it, especially since they've added some incredible new features, like a direct connection to your Paypal, checking and credit card accounts! Check it out here. 
A lot of my work has been influenced by Tara Gentile, her blog and her interview on the Get Paid Podcast. In fact I used the exact same launch strategy she described in that interview to test out a group training program. (It's the most successful "launch" I've done to date, so definitely listen or look for Tara's content on the Living Room Strategy.)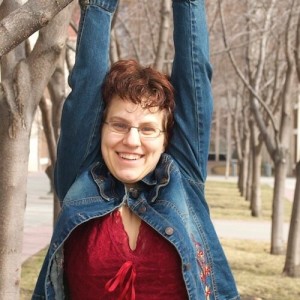 So I ran this program to train other Facebook ad consultants. I was no longer taking on ad management clients but I didn't really know who to refer people to. So I decided to create them! The plan was to pass along everything I know about Facebook ads to my Incubator participants and send them off into the world to go get more clients!
And that's what happened. I completely overloaded these awesome people with information. Because we conducted some of the sessions on Google Hangout, I could see them staring at the screens, trying to wrap their brains around the HOUR of training I had just thrown at them.
I probably only retained about half of them as the 8 week program went on. Now I know it's not uncommon for people to fall off the wagon in a course, but I knew that there was a lot of room for improvement.
But this was my plan from the beginning. This round of the program was a beta round on purpose. It would give me the information I needed to work with Breanne Dyck.
I came to know Breanne through an introduction from Tara, and from that day forward I've been obsessed with her blog. It doesn't hurt that Breanne has worked with some of my favorite businesses, but her blog posts on being a better teacher in this online world are amazing. She's one of those few people whose work is just ridiculously useful on a consistent basis. Go read through the archives and tell me you don't learn something!
How I'll Go About Creating All My Courses in the Future
So from the get-go, I planned to work with Breanne in one of her Elevate sessions. After I had compiled feedback from my program participants, Breanne had me fill out an intake form with questions about my business that I had never really thought about before. And of course, I outlined the Ad Consultant Incubator program and what my major questions were.
By the end of our 90-minute session, Breanne and I had outlined an entirely new structure for the program. 8 weeks became 6, 16 sessions became 5 modules, and each module included only what someone needed to know to be able to accomplish specific goals.
That was the question we focused on: what do people need to be able to do? It completely changed my perspective and allowed me to cut out a lot of unnecessary lessons. I was worried about not teaching enough, but Breanne showed me exactly which topics would allow someone to effectively and confidently serve their Facebook ad clients.
We also built more action time into the course so that I can give a ton of feedback on people's work, which was my favorite part of running the program.
Breanne's Elevate sessions are currently $750 for a 90-minute Skype call, plus an MP3 recording of the conversation (which has been extremely helpful to have!).
You can also work with Breanne on more than just your courses or programs. She is a certified Quiet Power Business Strategist and has what looks like an amazing coaching offering called Next. Details here.
If you're planning on creating a course with a premium price tag, make sure you budget for some work with Breanne. If what you teach people is organized in a way that actually helps them to be successful in their work or life, you'll end up with a group of satisfied customers that will help you sell so much more in the long run.
I see Fizzle as this combination of tool and coaching. I signed up in early 2015 with one specific goal: to learn how to start a podcast. I never intended to stay long; I wanted to get my just-in-time learning done and then peace out.
After all, I figured I wouldn't have the time or energy to participate much in their famous forums. Didn't I have enough "support" via free Facebook groups?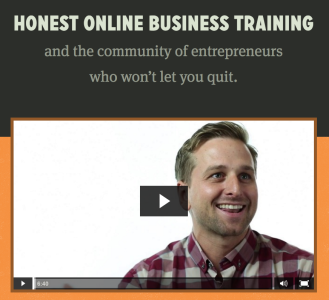 But long before I even got through their excellent courses on podcasting, I found myself jumping on an Office Hours call one Friday in March. Office Hours happen once a month, and it's essentially an hour long Q&A session with all four Fizzle team members. I was more entertained than anything; I felt like I was watching my favorite podcast record live!
But the next week was when my investment in Fizzle really started to pay off. Each Friday (unless there are Office Hours), you can jump on a group coaching call with one of the team members.
This week it was Barrett's turn to run the call, and I wanted specific advice about an ebook I was working on. My question was a really typical one: will people pay when they can get all the same content for free on my blog?
Barrett went a lot deeper than just a simple "yes, they will." Not only did he confirm that my plan to offer 3 tiers of the product was a good one, but he actually came up with a few suggestions for the video content that would go in the higher tiers.
I went away from that call, implemented Barrett's concrete suggestions, and then proceeded to sell over $10,000 during the launch.
But I couldn't have done it without the Fizzle forums.
During that same launch that turned out really well, I had one of my biggest business breakdowns to date. I ran a webinar to introduce the product, and afterwards felt like a total failure. (More on that here.)
So I took to the Fizzle forums, got reeeeally honest and explained what happened. It was something I never would have felt safe enough to post in a relatively public Facebook group.
The feedback was, simply put, amazing. I got a lot of encouragement, but what surprised me was how much people appreciated the honesty around that failure. It's a common trend in the Fizzle forums: "this did not go well, here's what I'm doing now, any ideas?"
Lots of times some VERY experienced entrepreneurs will chime in with great advice from their years in the trenches. And the Fizzle team is also active in there as well, so no member question is left unanswered.
A Fizzle membership costs $35/month, which I think is a steal. And their answer to an affiliate program is fantastic: for every person you recommend who signs up, Fizzle will discount your own subscription price for as long as you're a member.
Let's put it that way – I haven't paid $35 for my subscription in many months.
Here's my referral link. It gets you 2 weeks of Fizzle (meaning the courses, forums AND group coaching calls) for free, so come join us!
Get Your Deductions On!
Right now is a GREAT time to pay for one-time charges like Breanne's offerings, YNAB or Facebook ad mentorship. If you're going to spend the money on those things anyway, why not count them as 2015 expenses so you can deduct them on your taxes? Yay for shelling out less of your hard-earned income!
And don't forget: I'm only available to work with you one-on-one until March 2016, so don't miss your chance to figure out Facebook ads once and for all! Click here for more info on the cheapest way for us to partner.
What tool or coach changed your business in 2015? Let me know in the comments below!
(Disclaimer: the links in this post for ConvertKit and YNAB are affiliate links, and, as mentioned above, the links to Fizzle are referral links.)