This post is part of Racheal Cook's
Business that Loves You Back Blog Tour
. I'm thrilled to be included in this incredible line-up of business owners talking about what it's REALLY like to build a business that actually fits your lifestyle. (There's no bullshit about 4-hour workweeks in this puppy, that you can be sure of).
If you're like me and are constantly looking for new blogs to binge-read, you don't want to miss
these posts
.
Yesterday Shawn Fink shared
the surprising self-care tool she doesn't usually talk about, and
tomorrow Nathalie Eckdahl
is giving her own take on building a business that loves her back.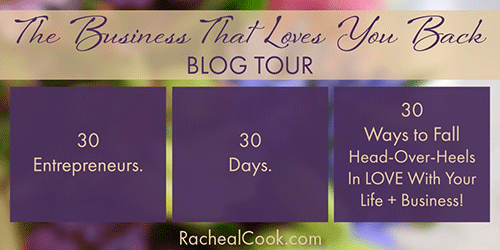 Ready for one of the most honest posts ever published on this blog?
I owe Racheal BIG time for pulling this out of me!
 "You'll never understand what this feels like!"
I was slumped over on the floor next to our bed looking up at my new husband with tears in my eyes. Don't ask how I made it down to the floor – it was as if the force of my tears pushed me off the sheets and onto the cold wood.
"I don't know if I can keep putting myself out there like this if I always end up feeling this way!" 
I wish I could say this was only the first (or second) time I melted down over my business. It's become a cycle that happens every time I put something out there into the world: the response is slow (or nonexistent) – far from what I've seen clients achieve on their own launch debut day.
So I decide that my value as a person is tied directly to the results of those Facebook ads I ran or the number of people who unsubscribed from my list. What else can I criticize about my business? Gimme 5 minutes and I'll find a pile of ammunition for my self-loathing. 
The despair I feel in these moments is so unbelievably demotivating that I get almost nothing done for days. The to-dos pile up as productivity slows to a snail's pace; the only thing that I accomplish is binge-watching season 5 of Gossip Girl . . . again.
But eventually this massive flood of emotions recedes. The cart closes (or I pretend that it does, ignoring the thing I spent months creating) and I move on. Onto the next thing. I invariably get excited about a new idea and decide to go through the whole song and dance all over again, completely blacking out on the stress it caused the last time.
Isn't that what they say happens with childbirth? That you forget all about the pain enough to brave another pregnancy knowing how sweet the outcome is?
Welcome to the behind-the-scenes of this business that I'm more than in love with: we're fucking soul mates. But that doesn't mean we don't have throwing-plates-at-each-other blow-out fights sometimes.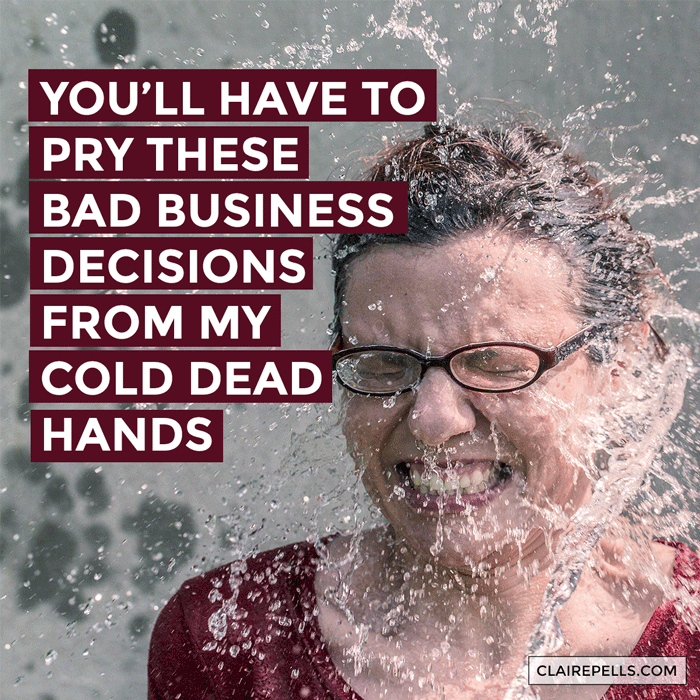 I don't always make good decisions. Here are some of the (recent) bad ones:
On Tuesday I wrapped up the launch of Landing Pages that Convert, a product for which I did zero market research before making. No one ever said "you know, I really need to learn how to optimize my opt-in pages." You know what happens when you create something no one wants? The entire two months I was working on it, I had no idea what the response would be like. And it is EXTREMELY hard to be productive knowing that the work might not pay off in the end.
I'll never do that ever again. The stress of "will anyone want this?" was just too great.
Another mistake I made was creating 10 videos and checklists upfront, instead of teaching the classes live and then packaging up the content for the product. This would have saved me hundreds of hours of work, but I decided against that method because of fear. I was afraid I would crash and burn during a live class; controlling how I released the information seemed to make a whole lot more sense, even if it took longer.
There were other massive mistakes as well, including running Facebook ads on a holiday weekend (DON'T DO IT), being massively underprepared for the first of three webinars (the root cause of those tears on the floor), and the painfully frustrating technical fight with my affiliate software. (If you're having tech problems, you NEED to get in touch with Nikole from thatsupergirl.com. Don't think, just do it.) 
But despite the tears, the weight I gained while stress-eating, spending too much money and failing WAY more times than I succeed, this is the only career that will make me happy.
Because I'm the one at the helm of this party train. I make every call, the good ones and the bad ones. And for me, being the boss is worth all the tears.
I was SO thrilled when I landed a full-time marketing job in 2013. After years of teaching English, freelance blogging, and then doing marketing for my husband's startup, I was so eager just to relinquish control over to someone else. I didn't want to worry about money anymore. Or doing the "right" thing. I just wanted to get to work, and to enjoy being part of a team (that I didn't already spend every waking moment with)!
Most of all, I wanted to get back to what I was "supposed" to be doing: working a traditional job in someone else's company. I had just come from the startup world where everything involved developers and designers and "growth hacking." I was sure I could NEVER be in charge of a company like that! Nor did I want to be. (Let me tell you just how much fun trying to get investors to believe in you is . . . oh wait, I CAN'T.) 
But my new job turned into a crazy eye-opening experience. Turns out you don't need a team of developers to build something that really helps people! You don't have to work 80 hour weeks to get a LOT done! And you can lead a team of great people without a shred of tension among them.
So in creeped an inkling of "I kinda DO want to have my own business," and eventually I couldn't ignore it anymore. The timing was perfect (and horrible), since that company was growing in a direction that didn't make a lot of sense for the work I was doing for them. And I was cut loose on the best and worst day of my life. Have you ever sobbed uncontrollably while feeling sweet relief? I didn't really know it was possible.
And that's how I reclaimed my Boss title, plus all the stress and responsibilities that come with it.
But I will never give it up, not even for the best job on the planet. I had already been in that job (don't get me started on the benefits) and I wouldn't go back if they tripled my salary. 
Being the boss means I get to do everything exactly the way I want to. And I'm not just talking about taking time off for a vacation or working from wherever (although that's a nice perk for this Buenos Aires expat).
I'm talking about the small things, like:
What tools to use. I sell my products on Gumroad because I'm absolutely in love with the user experience. Is it the smartest decision in the world? Not really. I pay a higher fee than I would if I used PayPal, and there are a number of features I'm dying for but probably won't see for a number of years (if ever). A lot of people probably don't buy my products because they can't pay with PayPal.
But it does SO many things SO right that I won't give it up, and I love that I get to make that call.
Whether to track my hours. I've gotten into heated arguments over this, but I don't give a fuck what you say the benefits are. I hate tracking the time I work for my clients (the same way I hate writing down every peso I spend), so I'm not gonna do it. 
Would it help me see who I spent the most time on? Maybe, but I don't need some time-tracker to tell me that! And guess what: sometimes the clients I spent the most time on are the ones I enjoy working with the most. So back the fuck off.
Whether to curse on my blog. Don't think I haven't gone back and forth a LOT about that. But you know what? Once again, I don't give a fuck if you don't like it.
How long my blog posts are. Last night at dinner Ernesto brought up a point we've already beat to death: how long my emails and blog posts are. "Why don't you split them up into several posts?" he always wonders. 
The answer is simple: if someone wants to figure out how to run a Facebook ad campaign, they need all the info NOW. Not next week. NOW. So I'm gonna give them everything they need in one place. Who cares about SEO and number of page views, etc? OK, maybe I care a little about SEO but what matters a whole lot more is giving people the information they need as soon as possible.
This is why I love being the boss. I made the choice to create Landing Pages that Convert in the long, convoluted way I did. I made the call to try to incorporate affiliate marketing into this already-over complicated launch.
Were they great decisions? It doesn't even matter anymore. Because I get to go forward, make my own decisions everyday, and fuck up all over again if need be. I guarantee that was not the last time I'll melt down over my business, and that you'll be sure to hear about it right here on the blog when it happens again.
Ever had a complete meltdown over your business? I know I'm not alone, so share your story with me in the comments!
And don't forget to grab the full schedule and links for the Business that Loves You Back Blog Tour right here.