Since you're not a zombie but rather a living, breathing entrepreneur, then you've undoubtedly noticed that video is all the rage on Facebook right now. The more time people spend on the Facebook site and mobile app (instead of consuming video content on a site like YouTube), the more ads they can serve and money they can make.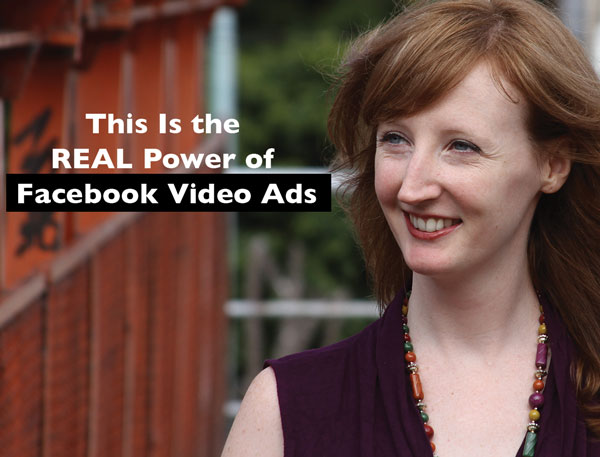 So not only is the Facebook algorithm featuring video posts prominently in everyone's News Feed, but they're also charging you mere pennies (literally!) to run video ads. People tend to hoop and holler when they see in their reports that each video view is costing them only $0.02.
Unfortunately this metric is kinda bullshit. Most "views" that your video ad gets are only about 3-5 seconds long. If you dive further into those reports, you'll probably see that most people bail before seeing 10% of your video (or less)!
But (and this is a BIG but), you shouldn't throw away your plans for video just yet.
Because the absolute best feature of video ads is the ability to collect the people who watched them into audiences and target them with other ads later.
Talking to your audience on video helps you connect in a deeper and faster way with the people who watch them, and can be very effective in moving people through your sales funnel.
When I was gearing up for the last launch of the Ad Consultant Incubator, I created a series of videos designed to get people interested in my program. Instead of asking them to opt in to view the videos, I simply uploaded them to my Facebook page and turned them into ads. I targeted virtual assistants and social media marketing consultants, as well as people who were already on my list.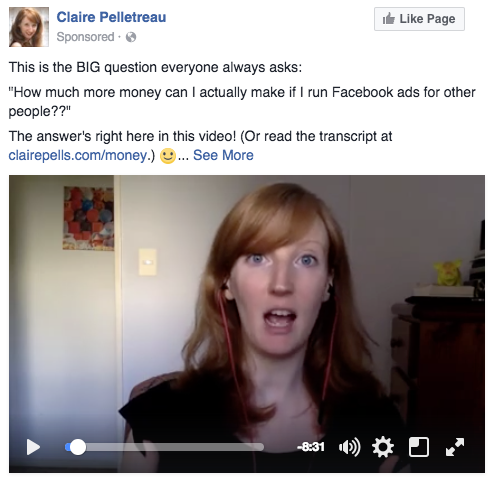 When it came time to start enrolling people in the program, I ran ads that targeted anyone who watched any of the videos in this series. I spent $100 on both the video ads and the enrollment ads together.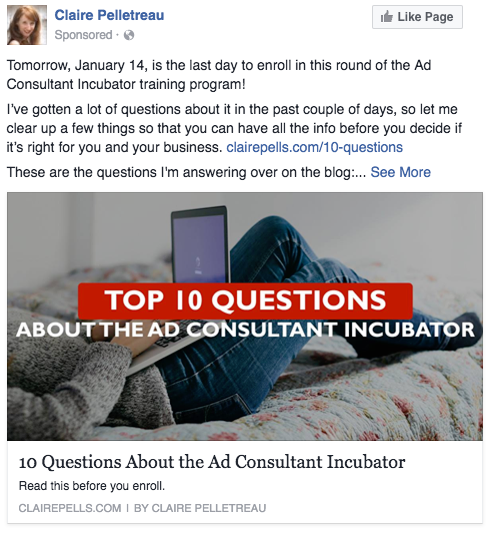 At least 3 of the people who signed up found me and the program through those videos. Considering the price point was about $1,800, that $100 investment was extremely effective in converting completely cold video viewers into customers in less than a month's time!
(FYI: all my videos are shot using the webcam on my MacBook Air in my home office. A simple setup can work wonders so long as the content is outstanding!)
Already Using Video on Your Facebook Page?
You don't necessarily need to run video ads in order to create audiences of people who've viewed your video.
If you've uploaded a video directly to your Facebook page in the past 6 months (not just posted a link to it on YouTube), then you can create an audience of people who've seen it in the past.
Or maybe you've started playing around with Facebook Live. If you've done a live broadcast from your page (not from inside a group or on your personal profile), you can also create an audience that includes anyone who watched at least 3 seconds of it.
3 seconds may not seem like a lot, and you're right. If I watch 4 or 5 seconds of your video and then move on, that does not mean I'm an "engaged" viewer. The good news is that when you create audiences from videos, you can actually choose the minimum amount of your video that someone saw in order to be included: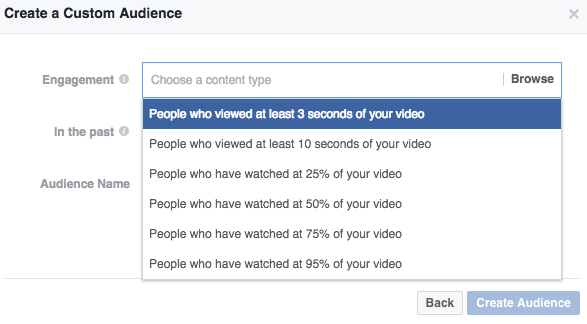 Chances are good that very few people watched as much as 95% of your video (unless it's super short), but don't get discouraged. You can use these video view audiences as a starting point to warm up prospects even more!
Mastering Facebook Ad Audiences Once and For All
Looking for that ONE resource that explains every Facebook ad audience you need to run ads that generate real revenue?
Grab a copy of my short-and-sweet ebook: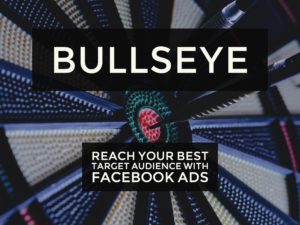 Don't spend another dollar on your campaigns before you crack open this succinct training manual. Click here to discover what's inside!