If there's one type of Facebook ad that you should have running at all times, it's Facebook retargeting ads. 99% of the time, it's the cheapest way to put paid list building on autopilot.
Quick Recap In Case You're Like
"WTF Is She Talking About???"
Facebook retargeting ads are the ones that target people who have already engaged with your business or brand at some point. That means people who have:
Visited your site recently

Engaged with your Facebook page recently

Watched some of your videos recently

Engaged with your Instagram business profile recently
You can run ads to all of those people at once, or split them up into their own campaigns. Either way, they're the ones who are MOST LIKELY to respond to an ad you show them that offers some free content in exchange for their email address.
Truth time: list building ads have gotten more expensive over the years, ESPECIALLY for B2B business owners.
More and more people are using Facebook ads to grow their lists, which means other business owners are getting desensitized to the constant "sign up for XYZ!" ads.
The cheapest cost-per-sign up I was able to get from cold traffic in 2017 was just under $2, with $3 being the average for that high-spend campaign. Remember: cold traffic means people who had no fucking idea who I was, and so most of them had no interest in yet ANOTHER Facebook ad about Facebook ads.
Some B2B clients of mine still enjoy dirt cheap $1 sign-ups, but since I always promise to tell you the truth, those clients are UNICORNS. (And that's why they can afford to pay me the big bucks to run their campaigns.)
So I had to figure out a way to grow my list without paying $3-$5 per subscriber.
The answer?
A constant low-spend retargeting campaign coupled with a tripwire offer that kept my ads profitable.
Translation? People who sign up for my list through this retargeting campaign pay me more than I'm spending on ads:

Huzzah!
Exactly What's Involved In These Facebook Retargeting Ads:
The Audience: Since last year, I've mostly targeted people who have visited my site in the past 30 days with my retargeting ads. The campaign that's currently active (see above) is targeting two groups lumped together:
People who have visited my site in the past 15 days, and

People who have engaged with my Facebook page or ads in the past 7 days.
Why? Last week I was running ads for a webinar that I then streamed live on Facebook. By running these ads now, right after engaging with a bunch of new people, I'm using these ads to deepen the relationship by giving them something free (and great).
PRO TIP: Make sure you turn on the retargeting ads any time you wrap up a launch! So many people that didn't buy are ripe for a tripwire offer.
The Opt-In: A swipe file (a.k.a. a Google spreadsheet) with more than 240 interests they can try out in their audiences. Grab your copy here.
The Ads: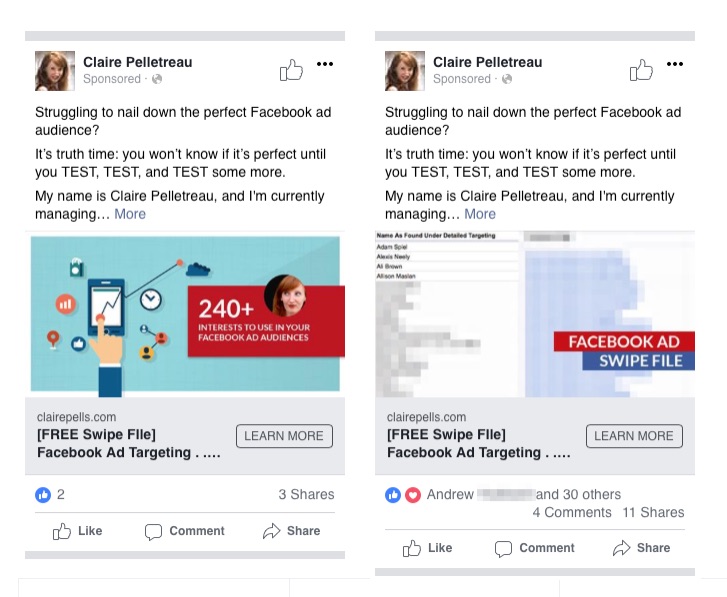 Fun fact: the ad that has all that social proof on it – the one on the right – has ALWAYS beat out the other one . . . until now.
With the campaign I'm currently running, the ad with my face in the image is getting all the impressions and conversions. And I like the let the winning ad win, even if it isn't a perfect A/B test.
The Tripwire Offer: When people sign up for the 240+ interests swipe file, the thank you page showcases a MAJOR discount on a mini course all about finding your perfect Facebook ad audience.
It converts really well, and the revenue from that mini course more than pays for the cost of these retargeting campaigns. You can see that the Website Purchases Conversion Value column shows more revenue than the Amount Spent.

The total revenue generated from these campaigns is $144 from a $90.06 spend. That's $1.60 earned for every $1 spent. And these results are consistent with all of my retargeting campaigns ever since I put my tripwire funnel in place.
FYI: I teach WAY too much in this tripwire offer, so next month I'm going to strip some things away and add them back as an upsell. If you want to get it ALL for the current $36 price, sign up for the swipe file and grab the mini course on the thank you page!
What If You Run This Whole Thing To Cold Traffic?
Excellent question, my friend.
I spent about $1,580 last year testing out ads to this new opt-in with cold traffic. I didn't quite break even, but it was still a huge success in my book:

From my $1,580 ad spend, I generated $997 in immediate revenue and added 507 people to my list. If you subtract the revenue from the spend, you get $583.
The way I look at it, I spent $583 to get 507 new subscribers to join my list. That's about $1.15 per subscriber.
You Don't Need a Tripwire To Run Facebook Retargeting Ads
It's great if you have a low-priced offer that seamlessly ties into one of your opt-ins, but you don't NEED one in order to benefit from dirt cheap retargeting ads to grow your list.
Ready to get your campaign up and running? Click here to get detailed instructions on setting up your retargeting campaign!
And if you enjoyed this post, why not share it with your nerdy marketing friends?