In 2015, Facebook rolled out what they call "the Facebook Pixel." It's their attempt to simplify things: you put one pixel on your site and it'll take care of creating audiences for the purpose of retargeting and tracking conversions from your ads.
If you go into the Ads Manager today in order to set up a conversion tracking pixel the original way, you'll see this "warning":

Oh the horror! You're going to have to learn something new, and soon!
But I don't want you to worry about that quite yet, and here's why:
If you stop using the old conversion tracking pixels, it'll become more difficult to read your reports. (And they're hard enough to read already, aren't they?)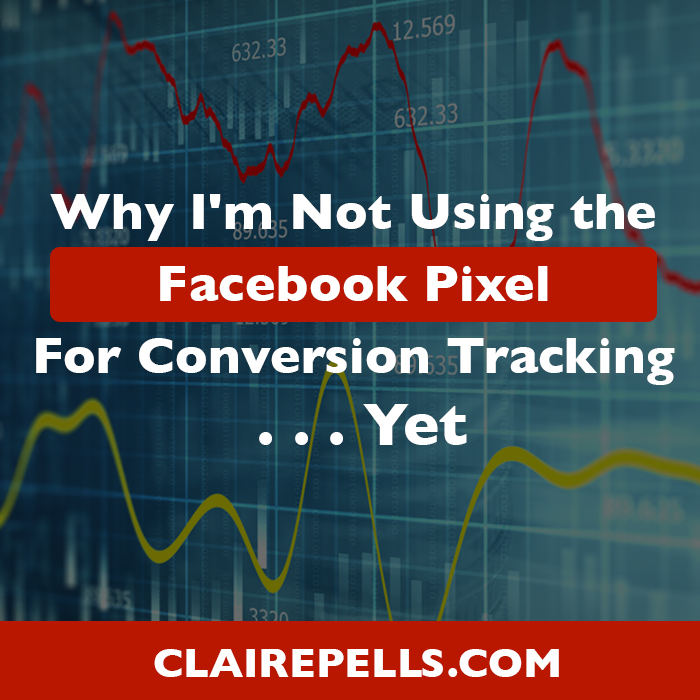 The New System of the Facebook Pixel for Conversion Tracking:
With this new system of conversion tracking, Facebook recommends you track sign ups, product purchases or enrollments with "Custom Conversions."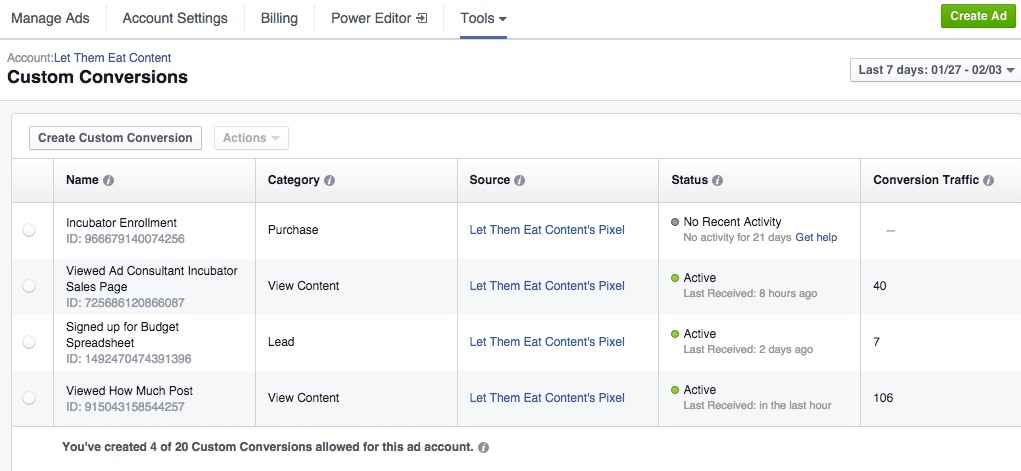 They're actually really easy to set up, and it's not difficult to add them to your reports.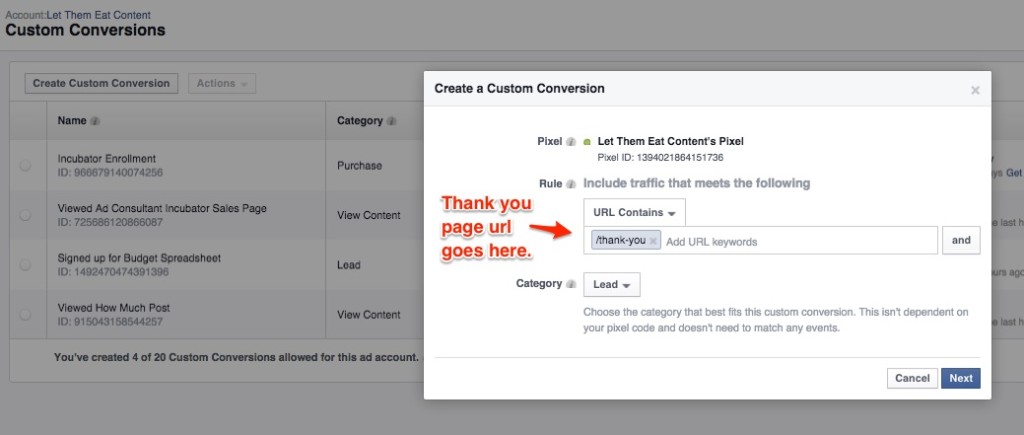 But here's the problem: you're only allowed to create 20 custom conversions on your account. And guess what? You can't delete any old ones to make room for the new one.
Standard Events to the . . . Rescue?
Since you have a limited number of custom conversions you can create, you shouldn't be wasting them on things like views on a specific page (like my Incubator sales page). Facebook wants you to start tracking events like those using "Standard Events."
This requires the teeniest tiniest bit of code manipulation, but it's actually pretty easy as well.

Here's the big problem though: when reading your reports, you can see the number of pages viewed as a result of your ads, for example, but not which pages were viewed. So if I'm running ads to my free opt-in content and want to see how many people ended up looking at the sales page for Absolute FB Ads, I can't. I'll have to use a custom conversion for that.
This may not seem like a big deal, but if you have several opt-ins on your site or more than a couple products, you're going to reach the maximum of 20 custom conversions quickly.
Then you'll be forced to use Standard Events, and all your data will be really vague.
Don't Make the Switch Yet
.
To get everyone to use the Facebook Pixel for conversion tracking, I would be surprised if Facebook didn't somehow fix this by the second half of 2016. It's a big problem, and I really hope they come up with a solution (like unlimited custom conversions).
So until I'm absolutely forced to change to the new system, I'll keep tracking conversions the old-fashioned way. I recommend you do the same.
If you have any questions about the new pixel, OR if you've found a way to get specific data about your standard events, let me know in the comments below!
And if you want access to Facebook ad experts (myself included) to help you figure out all the changes with pixels and Facebook ads in general, come join us inside the Absolute Support Group! It's the private Facebook group that comes with my Facebook ads course, Absolute FB Ads.  Here's what some people are saying:
The Absolute Support Group is so helpful! I can't even tell you how many little bits and pieces I've gleaned here. It helps with all the day-to-day, ongoing questions that come up once you're running ads, testing new things, etc. – Vanessa Soto
The private group is a must-have resource & confidence booster. I'm aways apprehensive when I run an ad. ALWAYS. So whenever I'm ready to run a new ad, I consult the latest version of the AFA course material, then search the group for details (what's working/what's not working)… then ask a question if I'm stuck. It's been my winning formula, so far. – Joyce Washington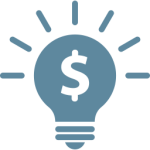 The people are knowledgeable, everyone is friendly, I usually get at least a form of answer to my usually very obscure questions, and not to be underestimated, no one tries to sell me something when I ask a question. – Rob Young
It's been amazing to have somewhere to turn where I have random "WTF why is my ad not working" questions. And Claire's been super helpful and responsive every time. – Jenn Hand