In case you haven't heard, I'm not going to let you off the hook for certain Facebook ad-related behavior. For example, not tracking conversions on your list-building ads. Do you have a website that won't let you put code on the back-end of your thank you page? Then I have some tough love for you right here.
These little pieces of code are easy to place, so you really don't have any excuses. (Dear Squarespace users: I know they don't make it easy for you to figure this out, but it ain't impossible. The pixel goes in the Header of the page; you can get there by going to Settings > Advanced of your thank you page.)
But my whole position changes when we're talking about conversion tracking for sales.
Here's why: we have pretty much no control over the software that allows us to take payments for our products or services. Unless you want to build your own payment processor (trust me, you don't), you have to accept their user interface and flow of information.
That means that if they don't let you set your own "thanks for your purchase" page, you can't track conversions for the sales that come through your Facebook ads. At least you can't without a little creativity.
Let's look at your options and what you can do to track conversions for your purchases:
PayPal
When I buy something via PayPal, I have to leave your site in order to do it. But there IS an option to set an automatic redirect page when you're setting up your product or service in PayPal.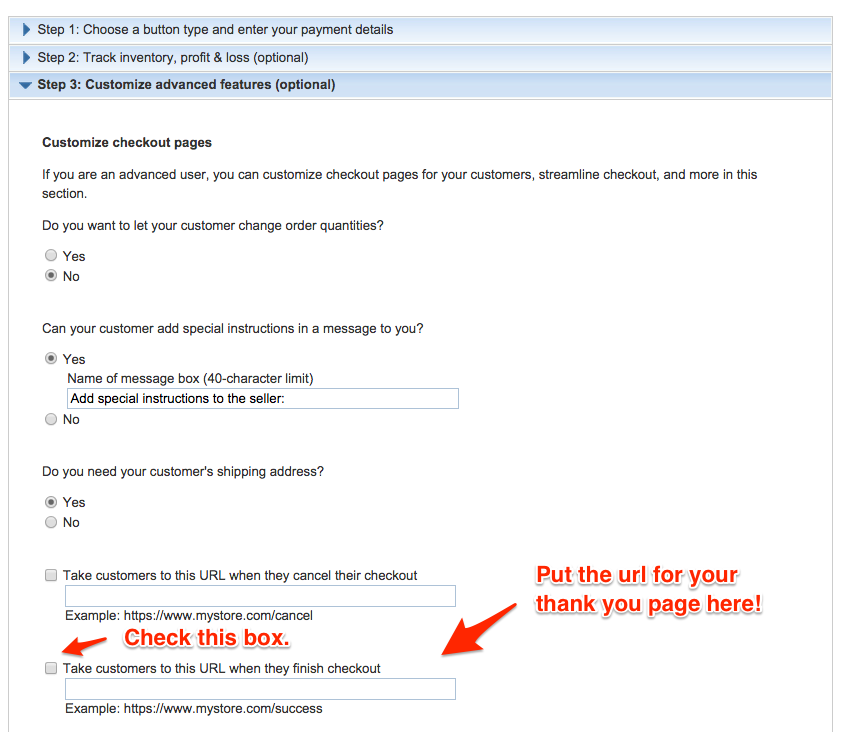 If you're using that redirect, I'll see a message from PayPal after I've completed my purchase that says I'm being redirected back to the site:

You should put your Checkout conversion tracking pixel on that page. Just make sure you understand that Facebook may underreport the number of actual purchases that come from your ads. Some people will invariably close the PayPal tab before they get redirected. If your thank you page never loads for them, the pixel won't collect information on that conversion.
But most people will wait for that redirect to finish; they want to make sure they don't miss any further instructions you may have for them.
So make sure you set up this redirect for any and all products or services you sell with PayPal, even if you're not running Facebook ads at the moment!
Gumroad
Gumroad. Is. My. Jam. I love everything about it: the design, the user interface, the insanely fast customer service, the way I can rely on it to always deliver my products to my amazing customers. And they've just rolled out a beta version of their affiliate tool; yesterday I was ready to send the entire office doughnuts.
The only thing they're missing for me is a redirect to my own thank you page. Sigh.
Now when you complete your purchase of Absolute FB Ads, this is the page you see: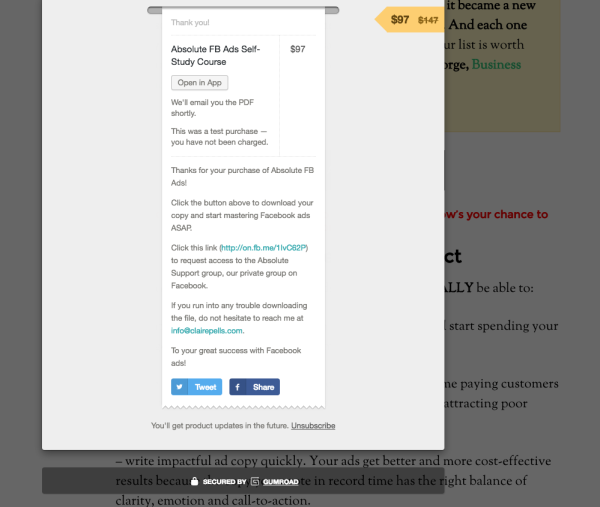 In case you can't tell, that's a kind of lightbox overlaid on my sales page. If you click out of it, you go right back to the sales page.
I've emailed with their team quite a bit, asking for the custom thank you page feature. It was explained to me that redirects are very tricky business and that there are no plans to allow for sellers to set their own thank you page. That said, it wasn't long before they rolled out a way to track conversions with your Checkout pixel.
Like everything with Gumroad, it's really easy to set up. Log into Gumroad and go to your name at the top right of the page. Click on Settings and then Advanced. You'll have to create your Checkouts pixel first here, and then just plug that pixel ID into the 3rd field on that page.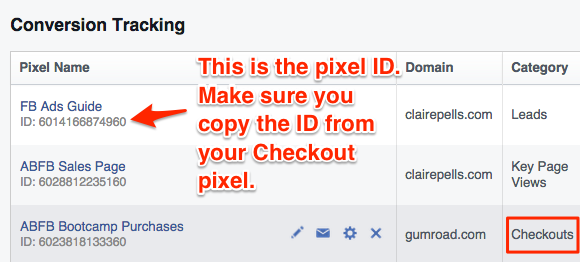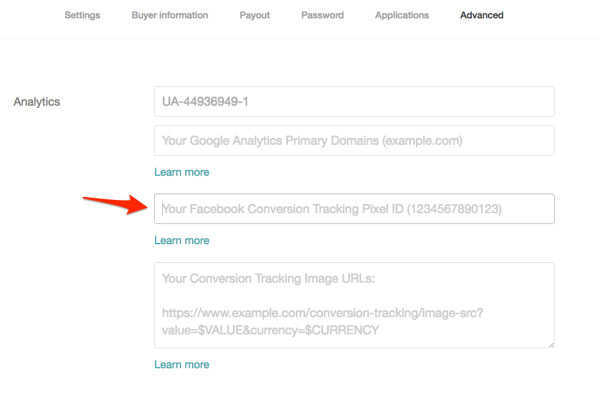 Then scroll all the way down and click on the "Update account details" button.
Important note:
Gumroad only lets you use one Checkout pixel at a time. But since they automatically track the value of your conversion (i.e. how much you earn for each product sold), you don't need to worry about changing your pixel ID number. I just use one conversion tracking pixel that I created a long time ago (ABFB Bootcamp Purchase) for all of my ads that are aimed at getting people to buy something from me, and Gumroad sends the important information back to Facebook when they purchase.
Your Own Checkout Form (Courtesy of Something Like Infusionsoft or Ontraport)
I never set up this stuff for my clients, but I know for sure that if you're using Infusionsoft or Ontraport, you can set up a redirect from your order form page to any page on your site. So when you create that thank you page, make sure you add the Checkout conversion tracking pixel the same way you do with your opt-in pixel. (How to set up Facebook conversion tracking instructions are here.)
EventBrite
Selling tickets to an event? EventBrite can be a great way to do it, AND it lets you set up a redirect to your own thank you page. Since I've never used Eventbrite myself, I won't pretend to be the expert, but hopefully this post with instructions on setting up that Eventbrite redirect is still up-to-date!
When You're Trying to Make Affiliate Sales
When you're promoting someone else's product as an affiliate, you simply can't track conversions from Facebook ads. You don't have control over their sales page or their thank you page, so there's no way you can add a conversion tracking pixel.
And FYI: affiliate marketing may or may not be frowned upon when it comes to Facebook ads. It's this weird gray area – there's nothing in their terms and conditions that explicitly forbids it. But I would hate for your Facebook ad account to get shut down as a result of it.
When I've used ads to promote affiliate products, I always run ads that drive traffic to a blog post that talks about the product. Those posts should always include a very strong call-to-action to go check out the product in question, with multiple links sprinkled throughout the post.
Make sure you do the math on what you can earn as an affiliate. You may need hundreds of clicks on your ad before you actually make a sale. If you're only going to make $50 per conversion, think about the cost of all those clicks. (They can range from around $0.05 to more than $2.00 a pop, depending on your audience and how good your ad is.)
Let's say you get clicks for $0.50 each. 100 clicks will cost you $50. And if no one converts from those 100 clicks? You end up paying more for conversions than you're actually making in commissions.
Like I said, you gotta do the math.
Marketplaces and Other Third Party Payment Processors
If you're sending your potential customers to another site to buy your products (think Amazon, Society6, or Etsy), it's likely you won't be able to set up conversion tracking for those purchases. Take a look around the settings to see if there's a way to set up a redirect back to your site after a purchase, but don't be too hopeful. Most marketplaces are designed to keep you on their site so that you'll end up buying more, either now or in the future.
One Final Hack
If your favorite payment processor doesn't allow you to track conversions or set up a redirect to your own thank you page, I can think of one trick that just might work:
Create a page on your site that all of your customers will visit immediately after their purchase, and put your conversion pixel there.
For example, I could send all my new customers an email that had a link in it to a page on my site. That page could have specific instructions for new customers, more information that would help them get the most out of my product or something similar. I would put my Checkout conversion tracking pixel on that page.
So long as it's a page that my customers are guaranteed to visit for some reason or another very soon after they purchase, that pixel will count their visit as a conversion.
Ideally it would be a page that they'd only need to visit once. Even though Facebook's conversion tracking pixels should be smart enough to only count each person who lands on that page as one conversion, sometimes multple visits get counted as multiple conversions.
What are YOU using to get yourself paid? Does it allow you to to set up Facebook conversion tracking?
Since I only have experience with some of the above-mentioned tools, I can't recommend (or discourage people from) anything else that's out there. Let us know what you're using in the comments below, and how happy you are with them so far!