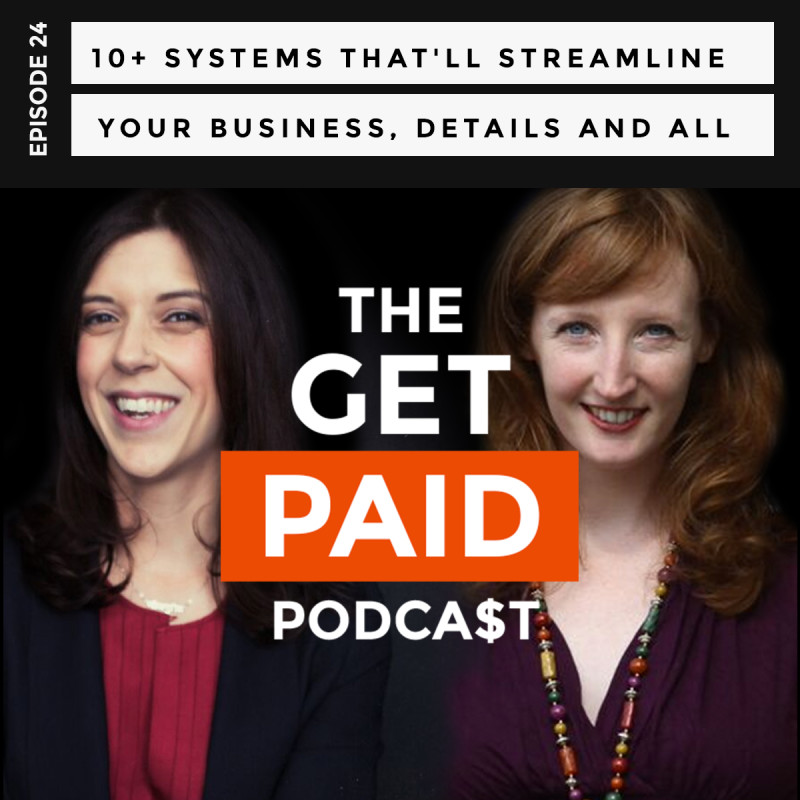 Today, Val and I talk about systems and processes for your business. What are systems and processes? Why are systems important? How can they help you manage your business more effectively? What type of systems are available? Which systems do we use for our businesses?
Val and I talk about a wide variety of systems, processes, and tools that we use throughout our businesses, as well as others that many entrepreneurs find useful. We answer all of the questions that you are dying to know about systems and processes, including the ones mentioned above. We share with you which system tools we use in our own business, and why we prefer these tools over others.
Season 2 of the Get Paid Podcast is sponsored by Acuity Scheduling.  Start your exclusive 45-day free trial at acuityscheduling.com/getpaid!
In This Episode You'll Hear:
Val explains what business systems are, and how they can help you run your business more efficiently.
Examples of free and affordable system tools you can start using immediately.
What CRM's are and why they are important.
What "model calendaring" is and how it can help you save time.
Why using to-do lists can help you organize your business.
Why solopreneurs should use email management systems.
Scheduling programs: why they are so important and how they can make scheduling your work week significantly easier.
System tools we recommend.
Mentioned In This Episode:
Acuity – Scheduling tool (affiliate link)
Project Management Software
Forms
Email Management
Automation
CRM's
The TL;DR of the show:
Choose one system tool per month then put it in place in your business.
Scheduling
Calendar
Project Management
CRM
Email Management
Checklists
Connect with Val and Claire on the ol' Social Networks:
Val Geisler
Claire Pelletreau
Thanks for listening! Time to go get yourself paid. :)