Last week I threw out my entire plan to get people to buy from me, and it was the best thing I've done in the past 6 months or so. I'm now so clear about how to serve my audience, and I never would have figured that out if it weren't for this failure-to-launch launch.
Since I learned so much, I thought you might benefit from this "launch postmortem" (as I like to call it). That's why I'm sharing this breakdown of everything I did over the past 2 months to enroll people in the Ad Consultant Incubator.
First, some quick context:
The Ad Consultant Incubator is a program that helps people become highly paid Facebook (and Instagram) ad consultants. That means it's NOT of interest to most of the people on my list who typically sign up for free training because they're trying to run ads for their own business (not someone else's).
The price is so high because of the time investment (12 weeks with TONS of 1:1 time with me) and the value of the experience. As a result of our work together, people typically raise their prices before those 12 weeks are up and start making (a lot) more money very quickly.
Here were the steps I took to fill 15 spots:
1. I hired a copywriter to write the sales page.
Excellent decision: $2,000 to take the pressure off of myself to write something that would convert people at a $5,000 price point.
Mistake I made at this point: I should have started this process at the beginning of November instead of the end of December. Writing a long form sales page takes time, even for the pros.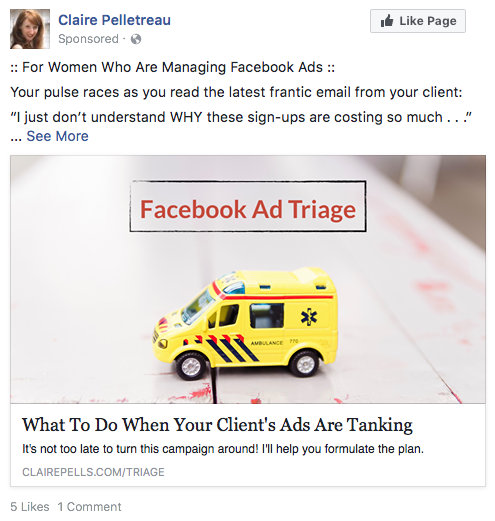 2. I grew the segment of my list that would be a good fit for the Incubator.
In January, I started running Facebook ads for a new opt-in called Facebook Ad Triage. When they signed up, people got 3 short videos that walked them through the steps to take in order to "resuscitate" a "dying" ad campaign.
I hosted the free training on my MemberVault membership site, which allowed me to see who was actually watching the videos. Sadly, only about 30% of the 237 people who signed up for the Facebook Ad Triage training ended up watching.
About the ads:
I spent $1500 to get those 237 people to sign up. My cost-per-lead was more than $6, higher than I was hoping for but not altogether surprising. (This is a tight niche with a lot of competition.) I decided to stop the ads after spending $1500 because I wasn't sure how cold Facebook ad traffic would convert to $5000 customers. It's a big leap, and I wanted to be conservative.
Mistake I made at this point: I didn't do this training live to start. I was in Argentina for most of January where Internet was spotty . . . but that's also an excuse. I get very nervous with live trainings, so I was hoping to avoid it if possible.
I also only targeted women with these ads. My reasoning behind that was because of the gender breakdown of the previous rounds of the Incubator. But that was definitely a mistake – about half of the people I eventually identified as great candidates for the program were men.
3. I created a short nurture sequence for people who signed up for Facebook Ad Triage.
The goal was to get people to respond to me and tell me a little about who they are and what they needed help with. I researched almost everyone who replied to those emails, and if I could see they were established ad consultants, I told them about the Incubator. I got a couple people to talk to me on the phone, and both of those people were very interested in the program but would need to wait until next time to enroll.
Mistake I made at this point: I was focused on people who already had a website that talked about Facebook ad services. This was foolish since many people who offer Facebook ad management don't have websites and don't have "fancy" email addresses. (They use Gmail the same way I did when I first started.) So I certainly missed out on getting to know more people who may have been a great fit.
4. I decided to do live versions of the Facebook Ad Triage training.
Since I saw how few people I had paid to sign up for the training were actually watching it, I knew I had to do something to nurture these leads more. That meant some kind of live event where I could actually engage with the people in my community, and show them what makes learning from me INCREDIBLE. (Spoiler alert: it's that I'm a great teacher and don't hold back on details.)
So I planned to run the Facebook Ad Triage training as live webinars, and to do them 2x per week for 3 weeks. The pitch at the end would be for people to apply to enroll in the Incubator.
I wanted to run Facebook ads for this webinar as well, but didn't get my act together to get them going to promote for the first two webinars that happened February 6 and February 8. "No worries," I thought. "I'll see how these two webinars go with people from my existing list, and then turn on the ads for next week's encore presentations."
5. I upleveled my webinar game.
I had bought Mariah Coz's Webinar Rockstar mini-course but had never used it. I busted out the keynote template they provided and used it as a basis for the structure of the webinar. It helped me understand how to increase engagement from webinar attendees, how to transition from teaching to my pitch, and what the structure of a complete pitch looks like.
I got my designer to create some slick mockups of the Incubator program to make the slides look way more professional than any webinar I'd done before. It definitely helped to boost my confidence.
6. I practiced 2 times the day before the actual webinar.
Like I said before, I have MAJOR resistance to doing things live, so I usually never practice beforehand. That leads to me rambling, missing key points and then my confidence bottoming out before I wrap things up. Actually practicing helped me identify which moments I needed to refine and practice even more, which absolutely helped my performance while I was live.
7. I calmed the fuck down and was more myself on the actual webinars than I'd ever been before.
It was so nice to focus on being ME and and geeking out on this topic that I love! It worked: the response from attendees both during the webinar and after was really positive.
8. I gave a legit pitch for the Ad Consultant Incubator.
In the past, I've skated over the pitch part as fast as humanly possible. But this time, I took my time to transition from the teaching section to the actual pitch, focusing on the desires of the attendees. Then I laid out the solution (a.k.a. my program), showed case studies, talked about the details inside the course, and teased out the pricing part to build anticipation.
But . . . all that meant that the pitch was really long. And it didn't work. Here's why:
Mistakes I made at this point:
I probably overwhelmed my viewers with too much information about the Ad Consultant Incubator. Every detail covered in each of the modules? A ton of different bonuses? It was a LOT. I found out later that people didn't know what was included in the program, so clearly a lot of my pitch went in one ear and out the other.

There was no urgency involved, and no reason for people to take action right away.
This webinar pitch wasn't a typical one: there was nothing that people could buy right away. In order to enroll in the Ad Consultant Incubator, people had to book a call with me to talk about it first. I do this to ensure the quality and commitment of my participants. Because I connect them with test clients who come from my community, my reputation is on the line. So if someone is just "meh" about participating, I'd rather not take their money.
(FYI: this is a great way to hurt your sales and lower your refund rate. So, pros and cons, right?)
In my pitch, the call-to-action was "book a time to talk to me!" And . . . no one did, at least during or immediately after the webinar. Why? Because there was no reason for them to do it NOW. They had more than 2 weeks to talk to me – why rush?
9. I emailed my list announcing that enrollment for the Ad Consultant Incubator was open.
Two people booked calls to talk with me about it. Both had been on the previous day's webinar.
10. I followed up with people who engaged with me on the webinar.
I use Zoom to host all my webinars, and Zoom requires people to put in their name and email address in order to join me live. So I had real names and email addresses of the people who were active in the live. They had shared more about their struggles as ad consultants, or who asked me questions during the Q&A. A few of them seemed like a perfect fit for the program, so I reached out to them individually to see where they were at and what questions they had for me.
These few email conversations gave me a ton of insight into what they perceived they needed help with. I discovered that some people were very interested in the Ad Consultant Incubator, but felt that they weren't ready for it yet. Someone said they were intimidated by me! Others were just getting started with Facebook ads, and really needed more support around that piece before they could start running ads for other people.
I also connected with someone who has already helped me with things in my own business. It's always a great feeling to discover more business buddies you can geek out with in your own community!
As a result of those emails, one person booked a call with me.
Lesson? Follow up with your engaged webinar attendees, my friend!
11. I repeated the same webinar 2 days later.
I had the exact same experience: terrific engagement, felt very comfortable in my own skin, lots of Q&A . . . but no one booked a call to talk with me. Fuuuuuuuuuck.
Remember how I had planned to run this webinar 2x per week for 3 weeks? I scratched that plan (and sure was glad I hadn't spent any money on ads for this webinar).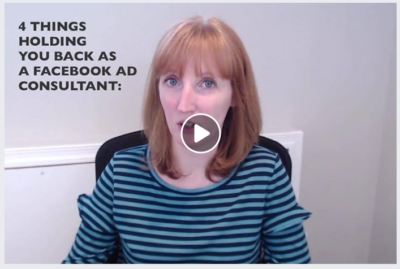 12. I created a 3-minute video explaining the 4 things holding people back from really stepping into their role as in-demand ad consultants.
I pulled them straight from the sales page my copywriter had put together. The call-to-action was to book a call with me to talk about the Incubator.
I posted it to Facebook and emailed it out to my list. At least one person booked a call as a result of that video.
13. I had my calls, and closed nobody.
The people who were a great fit all said the same thing: "I'm in for the next round. FOR SURE."
Huh.
There were still about 10 days for people to sign up, and since most people come in at the last minute, I tried not to worry so much. But something was definitely . . . off.
One of the calls was with one of my earliest customers, Angela. I confided in her that it was challenging to get people to enroll. She gave me some critical insight: in her case, she needed more lead time in order to budget for the cost of the program.
This was where the light bulb went off for me – while the people who were "in for the next round" hadn't said the same exact words as Angela, it made perfect sense:
$5,000 is a major investment for lots of business owners, especially if one of their problems is that they aren't charging enough! And I know that I think about big investments for months at a time before buying. Learning about the program and deciding to enroll in less than a month is probably too big of a leap of faith for people.
So I broke out my calendar and planned to start the following round of the Incubator in April (instead of waiting until the summer as I had planned).
At this point, I had a sneaking suspicion that I wasn't going to hit the minimum number of people (5) I would need or order to provide the kind of experience I wanted to for my participants. While I had some people on the fence, I had a gut feeling they weren't going to enroll in the end.
But I didn't give up yet!
14. I checked in with my coach.
I shared about my experience with the webinars, and how it seemed that lots of people who attended were earlier on in their journey to becoming well-paid ad consultants. Some were struggling to get their initial clients so they could test out whether or not they even liked doing that kind of work!
So my coach encouraged me to do another webinar with the following changes:
Shorten the pitch a bit so as not to overwhelm people.

Offer an incentive for people who booked a call with me

by the end of the day

.

Focus on getting people on the phone with me, whether or not they could even fathom investing in a $5,000 program.
15. I did one more round of the Facebook Ad Triage webinar differently.
This time, I offered a a free copy of my ebook, Landing Pages that Convert, to anyone who booked a call with me by the end of the day. This incentive was relevant since I talked about conversion optimization tactics on the webinar, which this ebook explains in-depth.
I also made an important change to my pitch: instead of addressing objections that people might have to the Ad Consultant Incubator, I addressed objections people might have to booking a call with me:
"I can't afford it."

"I don't want to waste your time."

"I'm intimidated by you."
I made it clear that I just wanted to learn about who they are and what they need help with, regardless of whether they would enroll in the Incubator.
By the end of the webinar, I had 5 people book a call with me.
16. I sent out a limited-time webinar replay.
It went out to everyone who had signed up for any of the Facebook Ad Triage dates, and set it to expire at midnight. So people needed to act quickly if they wanted to watch it.
By the time I went to bed that night, 6 more people had scheduled calls with me.
17. I talked with everyone who had booked calls with me over the next 72 hours.
And those conversations were gold! I discovered that the people who had watched the webinar typically fell into one of the following 3 camps:
They were already running ads for clients but didn't believe in themselves enough to make it into a true business. (My ideal prospect for the Incubator.)

They were running ads for themselves and were interested in doing it for other people, but didn't have that experience just yet. (Not ideal for the Incubator yet, but possibly in the future.)

They were not interested in running ads for other people and just wanted to talk to me about their own ads. (Not ideal for the Incubator, but definitely a good fit for my signature course on Facebook ads,

Absolute FB Ads

.)
Based on those conversations and the comments that came in during the webinar, I realized there was this gap that people in Category B needed to cross before they could get serious about being a highly paid ad consultant. And if I can help them bridge that gap, they'll be much more likely to join the Incubator later on.
18. I abandoned my plan to start the Incubator on February 26.
I had two people who were ready to enroll, which meant I had to break the news to them that the plan had changed. Honestly? Both seemed relieved that they could participate in a later round – it was like the pressure to make this big investment had been lifted.
19. I encouraged people who had said, "I'm in for the next round" to put down a deposit in order to save their spots.
I incentivized them by offering early bird pricing, and most took me up on it. (If you were one of those people who wanted to wait until next time, get it touch. Early bird pricing is only available for a few more days.)
20. I made a plan to help the Category B prospects bridge the gap.
I thought about doing a paid workshop or something to help recoup the costs of the ads and the copywriter, but in the end I realized I didn't want to charge for it. This is where it makes sense to help people for free in order to build brand loyalty and plant the seeds of becoming a paying student later.
Here's the plan:
Next week, I'm doing a completely new webinar for people who are interested in the world of running Facebook ads for money. If you like Facebook ads but don't know how to get your first clients or how much to charge them, this is for YOU. Keep an eye out for the details over the next few days.
***
And you've made it to the end! You're basically my favorite person ever, did you know that? ☺
Like I said, I learned a TON about my audience and their needs by this "failed" enrollment process. If there was even one thing that made you go, "oh WOW, I never even thought about that," I'd love to hear what it is!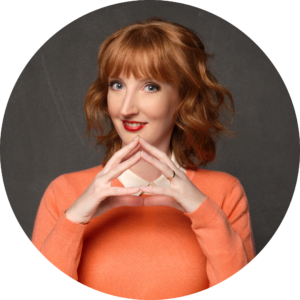 Let me know in the comments, cool?
Thanks so much for reading!
– Claire