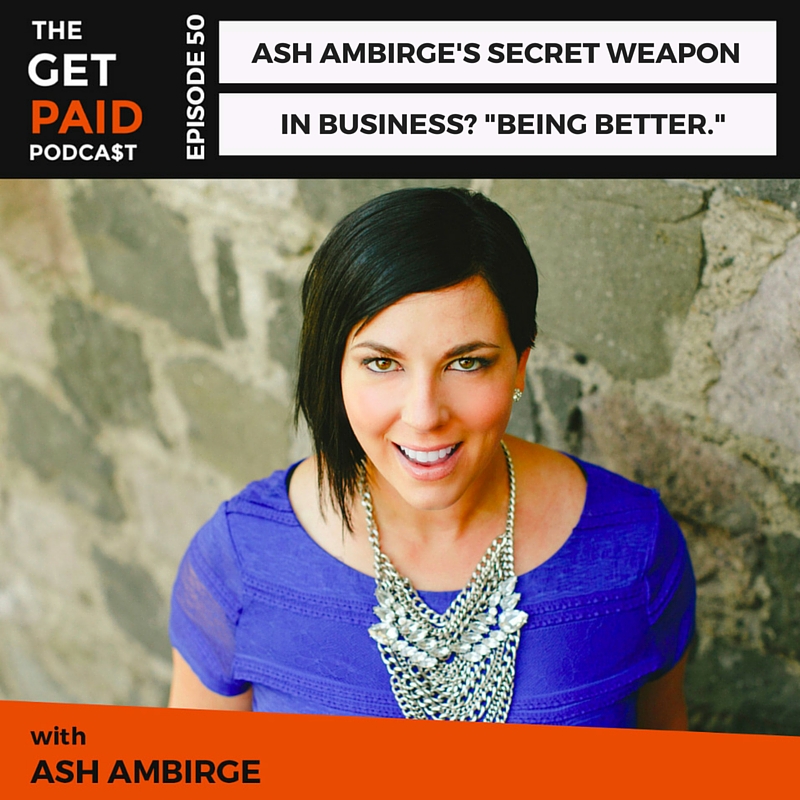 It's the Season Finale of the Get Paid Podcast! I am super excited about this episode – but even more excited about our guest on the show today. She is someone I have followed for about three years – like, to the point of having "stalker-y overtones" and inviting her to drinks (repeatedly). Unfortunately, we have not been able to have those drinks due to the pesky thousands of miles between us, so to have her on the podcast today is pretty much the next best thing.
Ash Ambirge – the spicy writer with a love for explicit language – is the founder of The Middle Finger Project blog. Her insanely successful blog and brand is well-known throughout the blogosphere for its vulgarity, and this voice has enabled her to grow her online business, using her blog as a conduit – to sell a lot of products and services online. Today, we dive into her story about how she made her blog such a huge success, what she does to market her business, and what she sells on her blog.
Season 3 of the Get Paid Podcast is sponsored by Acuity Scheduling.  Start your exclusive 45-day free trial at acuityscheduling.com/getpaid!
In This Episode You'll Hear:
How Ash gets paid.
How does she do so well without launching products often?
Can just anyone learn to be a good writer?
Does coming up with new names for products come easy for Ash all the time, or are there times when she struggles to find the perfect name?
Does Ash work 1-on-1 with clients as well as sell her products, workshops, and retreats?
Ash's preference: To teach, or to write?
Why the hell does she wake up at 5am every day?
Her new book – Coming Soon!
When she started out in business, did she always have the same strong, confident, assertive personality that she has today?
Why does she feel like her business needs significant design improvements even though the content on her blog and website is so powerful?
What part of being a Philadelphian has "stuck" with her the most?
Mentioned In This Episode:
Connect with Ash:
Connect with Claire on the ol' Social Networks:
Thanks for listening! Time to go get yourself paid. :)
Take a Peek at the Tools, Coaches, and Trainings We Use to GET PAID:
Look behind the scenes and see what we're using to keep the money rolling in!
We've done all the research, testing and trial 'n error for you. Grab your copy today!