Holler! This is the second in a series of posts that focus on advanced targeting tactics for your Facebook ads. Check out the first one on lookalike audiences here and the third on mixing them all together here.
In this post you'll learn:
That the ads that seem to follow you around Facebook are made with Website Custom Audiences
How to create them, and
Some of my favorite strategies for making more sales with Website Custom Audiences.
If you've got a pulse and a Facebook account, then surely you've noticed the ads that "stalk" you. I'm talking about the pair of shoes you looked at on Zappos that keep showing up in your News Feed. Those flight prices you found that keep following you around in your sidebar.
Sometimes you may even see them twice in the same place!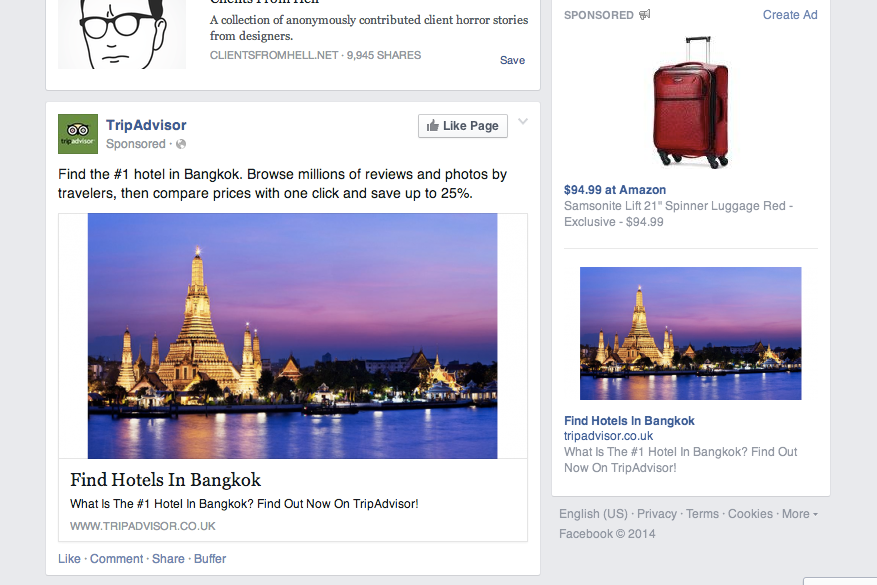 (Wow, I'm getting hit by all kinds of stalker ads in this screenshot. First the suitcase on Amazon and then the hotels in Bangkok! Can you tell I'm getting ready to take a trip?)
Any ads that get triggered by visiting a certain website and follow you around on other sites are known as remarketing or retargeting ads.