I get a lot of emails from people gently cursing the Power Editor. Compared to Facebook's Ads Manager (the interface most people use to get started with their ads), it just seems too overwhelming. There are too many boxes and menus and ways to get lost. Why would they make something as difficult as paid advertising so freaking complex?
But if you've spent any time with me and my blog, you know I'm a die-hard fan of the Power Editor. I'm the one in your inbox peer-pressuring you to create your ads in there, otherwise a terrible fate will befall you!!!
And though I tend to be fantastically over-dramatic, there's a reason I keep going on and on about this issue:
There are real limitations to what you can do in the Ads Manager that simply don't exist in the Power Editor. And as someone who's opening my wallet for Facebook every week to grow my business, I want as much freedom to run my ads as Zuckerberg is willing to give me.
Here are the top 5 reasons you couldn't pay me to go back to using the Ads Manager interface:
1. Facebook thinks it can tell me how to spend my money.
One of the great things about Facebook ads is the fact that you can tailor your ad based on the objective of your campaign. No matter what action you want someone to take, you can use a combination of text, images and/or video to get there.
In the Ads Manager, however, Facebook determines what kind of ad you have to create once you choose your objective. You want people to sign up for your newsletter? You have to use a link ad. Want to run a video ad? You can only optimize for video views (instead of my favorite, website conversions).
The Power Editor gives you complete control to make your own decisions. Here's an example of how you might want to design a campaign:
Let's say you posted something to your Facebook page about a new webinar that you're holding. It got a few likes and shares – score! Now you want to take that same post with all those likes and shares, and expand its reach. After all, webinars are a great way to build your list.
You go into the Power Editor and create a new campaign with Website Conversions as your objective. Because of all the options in the Power Editor, you can choose that same post from your Facebook page and select your targeting so that this post gets shown to friends of your fans who follow other businesses similar to your own. (And that's just the beginning of what you can do when targeting smart.)
So now this post that has social proof in the form of likes and shares gets shown to new prospects that visit your site and sign up for your webinar! And since you chose Website Conversions as your objective, Facebook will show your ad to people who are more likely to click your ad and sign up on your landing page (because Facebook knows what you're up to – they're a little creepy that way).
That right there should be reason enough to ditch the Ads Manager and start getting some practice with the Power Editor.
But let's say you read the entire section above and thought, "Come on, Claire, I'm not getting into such advanced stuff at this point. Just let me create my simple link ads in peace."
I hear you. When it comes to Facebook ads, it's reaaaaally normal to just want to get your ads running and be done with it. Since the Power Editor requires a little bit of poking around to get through the whole process, maybe your instinct is to keep using the Ads Manager as long as possible.
However, there ARE some elements of setting up your ads that are actually more complicated in the Ads Manager. Yes, really!
For example:
2. Your Message Gets Clipped
Here's a link ad I set up using the Power Editor: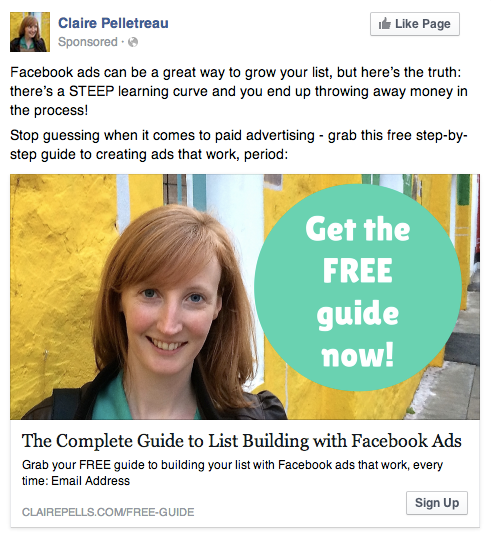 I tried to create that same ad in the Ads Manager. Here's what happened: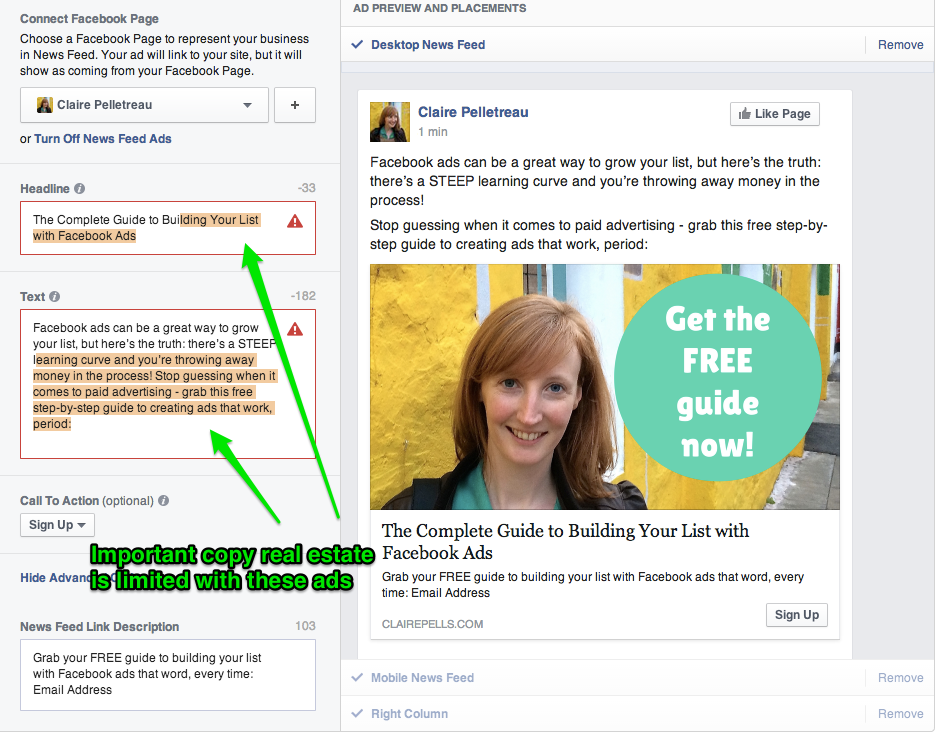 As you can see, there are limits to how many characters you can include in those boxes. They just happened to be two majorly important pieces of copy for this type of ad. Since my ad copy went over the limits, Facebook wouldn't let me upload the ad.

But in the Power Editor, you don't have those limits. Stop counting your characters – you can write as much as you want.
3. Ridiculously Important Options Are Concealed
When it comes to settings like your target audience and the pricing for your ads, there's no denying that the myriad of options can be a little overwhelming. In my opinion, however, that's no excuse for straight up hiding them.
When creating your ad in the Ads Manager, Facebook hides the most advanced settings in easy-to-miss menus: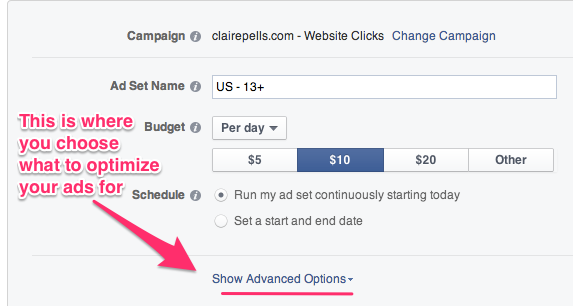 Here's the truth: these blink-and-you-miss-them options are where the most powerful settings for your Facebook ads are kept. By not showing them to you outright, Facebook allows you to set up shitty target audiences and un-optimized pricing. Translation? You spend more money and get worse results. Yup – Facebook takes advantage of the fact that you're a beginner advertiser.
(I absolutely hate this about Facebook.  It's the exact reason I feel it's so important to get this and other blog posts in front of you, the smart business owner.)
All of these settings are laid out clearly for you in the Power Editor. It may feel like those screens are really crowded with options, but it's just a matter of patience. Take your time to read through the different settings from top to bottom under the Creative, Audience and Optimization & Pricing sections. It makes a LOT more sense with a companion guide (like this free one).
4. They Dupe You Into Running Sidebar Ads
If you aren't familiar with the different placement options, you may not know how different your ad will look in the News Feed versus on mobile devices versus in the right column. It's likely that your copy, including your perfectly written call-to-action, will get cut off, like this: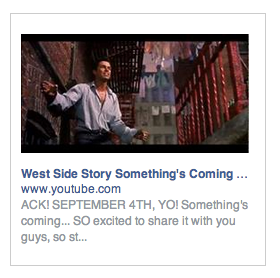 This is where the Placement settings are hidden in the Ads Manager: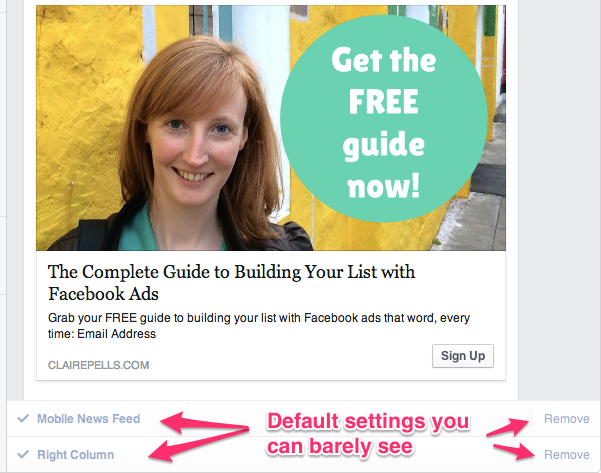 More buried settings, more chances to give Facebook your money without getting results.
(I haven't used the Ads Manager to set up my ads in over 2 years. I'm getting angrier and angrier as I write this post and discover more of these shady tactics to get your money. Hopefully you're with me and are already itching to start using the Power Editor.)
5. You Can't Access the Power Editor's Secret Weapon
There's only way for me to calm down now that I'm ridiculously pissed off about the Ads Manager. And that's to show you something amazing.
In addition to having all your options laid out for you, the Power Editor has one feature that allowed me to be this crazy nimble marketer while running HUGE ad campaigns for Laura Roeder. Laura is someone who really understands the value of investing in her business, and when we placed high-roller bets on Facebook ads during big launches, we saw huge pay-offs.
Whenever you're running ads for an extended period of time or with big budgets, you need to refresh the ad copy and images fairly frequently. You need to test out different audiences and different countries and watch how those tests impact results. I would normally only spend about 30 minutes or less per day on those campaigns, and it was all thanks to one feature:
The Duplicate button.
This puppy isn't just for advertisers who are spending a bundle on their campaigns. You can use the duplicate button to take any ad you spent time to create, replicate it as many times you like, and tweak the targeting so that the same ad gets shown to different interest segments. Or you can take an ad set full of ads being shown to your fans, duplicate it, and tweak it so that the new ad set targets friends of your fans. Or (wait for it) you can take a campaign you ran 6 months ago, duplicate all the ad sets and the ads, change the schedule and hit the upload button so that your entire campaign starts again. That way you don't spend any more time creating ads, but the results from the new campaign are separated out from the old conversion tracking.
Confession: that one's probably my favorite trick in the Facebook ads book.
So how do you use the duplicate button? With just three clicks:
Select the ad, ad set or campaign you want to duplicate:

Hit the duplicate button.
Choose the campaign and/or ad set you want the thing you're duplicating to go in. Examples: If you're duplicating a campaign, you don't select anything. If it's an ad set, you need to select the campaign it should go in. If it's an ad, you need to select the campaign AND ad set the new ad will go in. (Click here to read more about campaign structures.) Change the name of the new ad, ad set or campaign if you like.
Are you a Power Editor believer yet? I really hope so. All of my how-to articles and videos focus on it because I know that in the long run, learning how to use this tool is going to seriously benefit you and your business. Feel free to check out a couple of super-simple Power Editor tutorials if you want to get your feet wet right away.
And if you have any other Power Editor questions at all, leave them right here in the comments! If I can do anything to help you get more comfortable in there, then I know I'm doing something right. :)