I never thought this would be something I'd worry about in my business, but I can't help it. I've noticed that whenever I work with a contractor, I try to be the BEST client they've ever had.
(I'm not always successful.)
Maybe you're a service provider and you know the agony of working with nightmare clients. Hopefully you've also got a few dream clients who you hope never stop paying you.
What I've learned, though, is that sometimes I'm not a great client because my expectations for how the project will unfold are all out of whack. Or I have NO idea what to expect, and suddenly I have to adapt to a style of working that's different from mine.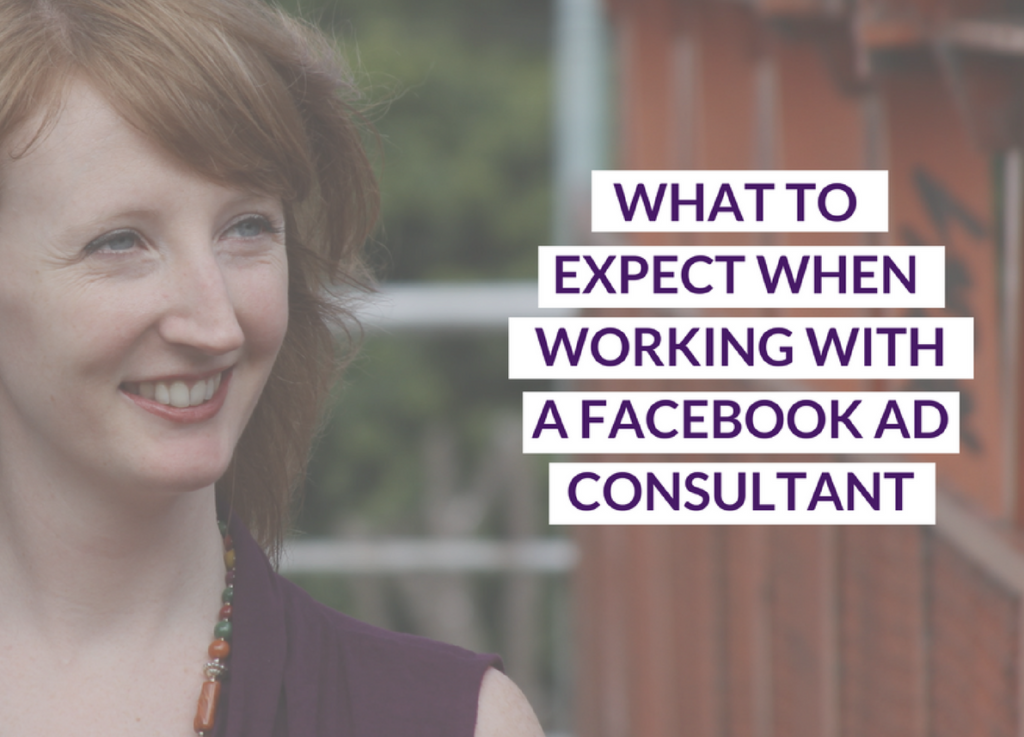 When I matched up test clients with the Facebook ad consultants I trained over the summer, I noticed a very serious disconnect between some of my trainees and their clients. My trainees were having a hard time getting what they needed to complete the projects, and the clients came to me complaining that it was taking forever to get the ads going.
That's why I made the 6-minute video below: to help you understand what to expect when you're working with a Facebook ad consultant. Watch it (or read the transcript to learn exactly what YOU can do to help move the project along, as well as what your ad consultant should be doing once those ads are up and running.
(Spoiler alert: be prepared to feel like they're ghosting you. And that's OK!)
Protect your business from a know-nothing ad consultant by learning how to spot the truly talented in a sea of wannabes. Click here to learn how.
Transcript: What to Expect when Working with a Facebook Ad Consultant
Hey guys, Claire Pelletreau here, from clairepells.com. I am a Facebook ad consultant and teacher, and recently I've been talking a lot about this question of hiring a Facebook ad consultant. It is a big decision, and so I wanted to spend some time talking about it with you because I know you have these questions as well.
Recently I shared a video that's all about making the decision about whether or not you should be hiring your ads out, or running them yourself. And I asked three questions to you that will help you kind of make that decision.
In today's video, I wanted to share a bit with you about the experience of working with a Facebook ad consultant. How does it work? What can you expect? And that way, if you do decide to hire somebody, then you can be prepared.
So there are kinda three things that I want you to know about working with a Facebook Ad consultant. The first is that in the beginning, after you say to somebody, yes, I'd like to hire you, there's a lot of up-front work. In order to get the campaigns up and running, it's not just a question of the ad consultant doing some magic and things get going.
They're probably going to need a lot of things from you. Access to your site, access to some of your tools, depending on the complexity of the project, because they're going to need to set up conversion tracking, make sure your pixel is in place, so that that pixel can create a bunch of great re-targeting audiences for you.
Somebody is going to have to write the copy and create the images or maybe the videos, and that might be the ad consultant, or it might be you, depending upon the agreement that you have come to with that person. But even if they're writing it and creating the images, chances are, you're gonna want to review things to make sure it all sounds like it's in your voice.
So, there's just a lot of back and forth until things get up and running, and if you can, kind of prioritize those emails that you get, or those messages on Slack, wherever it is, then your ads are gonna get up and running much more quickly. If you become the bottleneck because the ad consultant can't do a lot without those links, without that thank you page (because conversion tracking is important!), they can't do their job. So that's the first thing.
The second thing is once the ads are up and running, that whole like, "best friend" relationship 'cause you guys are talking all the time, it may slow down drastically. And I don't want you to feel like the consultant has abandoned you because you stopped hearing from them multiple times a day.
In the very beginning – I'm talking about the first couple of days – there's not much that the ad consultant can tell you. I know you're gonna be eager to see the results, to hear what's working, what's not, maybe even come up with other strategies. Maybe you've started to doubt your strategy, but do your best to relax for a couple of days, and then check in, or hopefully the ad consultant will be checking in with you after a couple days to let you know how things are going.
The initial results for Facebook ads, like in the first hours or even couple of days, are not a good representation of the results that you're gonna get in the long term. So, trying to identify what's working, or figure out if there are problems in the first couple of days doesn't make any sense. Just try to relax, sit on your hands a little, and then make sure you're checking in after your ads have been running for 48 hours.
Then, this is the third thing, the question of how often you're gonna have communication with your ad consultant. It really depends on both you and the individual. There's no right way or wrong way to have reporting done, or communicating with your client. It really depends on each particular project. So, if you're somebody who wants to know how things are going every single week, that's totally cool. Make sure you communicate that with the person before you hire them.
I have clients who only want to hear if things are going poorly because otherwise they know that we're meeting the targets, everything is going well. And they just aren't concerned. But that's not gonna be everyone, and that's okay if you wanna be more involved. Just make sure that that is communicated up front.
If things aren't going so well with your ads, I would expect you to have a lot more communication, meaning I expect your ad consultant to be more communicative with you to be talking about different strategies and things you can try, and why the ads aren't working so much. But, again, once those new ads are up and running it's a waiting game again. So do try to be patient.
That's just a little bit of insight into what it's like to work with an ad consultant. I know that it's a different game because not only are you paying somebody, but you're also paying money for them to do their work, and that can be nerve wracking. But do your best to trust the person that you hired.
Hopefully you have hired somebody good; and we're gonna talk more about that coming up soon, about how to hire the right Facebook ad consultant. But once you're in the project, be responsive to their emails to make sure that they have everything they need, and then try to trust the process, and don't touch anything yourself, especially not for the first few days. Cool?
Soon I'll be sharing another video where we talk more about this question of money: how much ad consultants will charge you, and what's the right fee structure for you. So keep an eye out for that video as well.
Let me know what your questions are in the comments below, and again, if you like this video, if you learned something interesting I would love it if you would share it with your community. Thank you so much for watching. I will see you in the next video!