Have you ever run Facebook ads that got lots of conversions only to find just a handful of new people on your list?
WTF? Kind of feels like Facebook is screwing you, right?
Actually, that's not the case (this time). Here's what probably happened:
Someone clicks on your ad and heads to your landing page.
She likes what she sees and opts in to receive your free content.
Facebook counts this as a conversion since she gets directed to your "thank you" page. This is where, per my instructions, you added your conversion tracking pixel. Her landing on this page triggers the conversion for your ad.
Because of the way most email providers are set up, she needs to confirm her subscription before she's added to your list. This is where the disconnect happens. Your automatic "please confirm your subscription" email is a) left unopened, b) ignored or c) never seen. That person doesn't confirm her subscription and so she's never added to your list. Bummer.
"Wait – does this happen a lot??"
You may be surprised. Based on the tracking I've set up, about 20-25% of people who sign up for my free guide to Facebook ads don't confirm their subscriptions. That percentage tends to jump when I look at traffic that comes directly from Facebook ads.
It's frustrating, but also a part of building your list. Some people simply don't want to get more emails, so they'd rather miss out on your free content than confirm their email.
But don't worry – I'm about to show you how to reduce the number of people who don't confirm.
Let's get a couple definitions clear before we move on. I'm going to be talking about two pages that people see after opting into your free content. They are:
Your thank you page. This is the page I see immediately after signing up for your ebook, video course, webinar, etc. It's the one that says, "Go confirm your email address, stat!" or something like that.
Your confirmation page. This is the page that opens up when I click on the "confirm" button or link in your "please confirm your subscription" email. This page might tell me more about you, your business and/or how I can work with you.
Step #1: Figure Out What Percentage of People Aren't Confirming
Before you can optimize this step in your list building funnel, you need some data about what percent of people aren't confirming their email addresses.
"Can't I measure this using Facebook's conversion tracking pixel?"
Lots of people have asked me if they can put the conversion pixel on both the thank you and the confirmation pages. If you do that, you'll end up confusing Facebook's reports. A conversion is triggered whenever someone lands on the page where you've placed the pixel. Everyone who gets on your list sees the thank you page first and then the confirmation page (otherwise they wouldn't be on your list). So if there are two pixels in the mix, any sign-up to your list that comes from a Facebook ad would trigger two conversions, thereby skewing the numbers Facebook reports to you. We definitely don't want that!
"What if I put the pixel ONLY on the confirmation page?"
That's one option, but I don't recommend it. It won't tell you how many people aren't confirming, just how many made it to the final confirmation page.
I tried this technique myself once but I actually found that the confirmed sign-ups wouldn't always trigger the conversion in my ad reports. For once, Facebook was under-reporting my results. That's why I set up the following tracking method:
Tracking Sign Ups vs. Confirmations with Google Analytics
You should already have a goal set up in Google Analytics for opt-ins on your landing page. (If you don't, stop what you're doing and grab instructions here.)
Now you're going to set up another goal just for confirmed subscriptions. This goal will be triggered whenever someone lands on your confirmation page, which has a different url on your domain.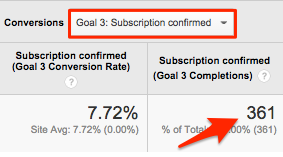 Once you've got both goals set up and some traffic running to your landing page, you can compare approximately* how many people signed up versus how many confirmed their subscriptions.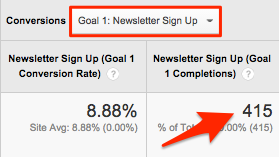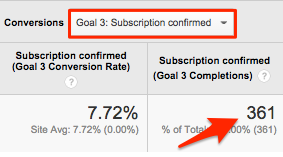 (*Conversion reporting in Google Analytics will never be perfectly exact. It's based on pageviews, so if someone bookmarks your confirmation page and visits it once a day, you'll have really inaccurate data. And yes, some people will do that!)
Don't look at this information daily. It's very common for people to sign up for something and then confirm their email address days later. You'll go crazy if you try to make sense of it on a daily basis, especially while running Facebook ads.
How This Affects Your Facebook Ads
Sadly the fact that not everyone confirms their subscription means that you're paying even more for the people who actually do end up on your list. I ran a recent campaign and got my cost per conversion (as reported by Facebook) down to $1.01. I spent $218 and got 217 conversions.
But when I looked at my list, there were only 120 confirmed email addresses that came from that campaign. That means only 55% of those conversions actually confirmed their subscriptions. When you look at those numbers, my real cost per conversion was about $1.82. That's a big difference when you're talking about hundreds of conversions.
Step #2: Increase the Percentage of People Who Confirm
Here are 3 elements of your list building funnel to focus on if you want to increase the number of  people who make it all the way through the subscribe:
1. Make sure your free content is an aspirin, not a vitamin.
Create something people really and truly need to solve a problem they have, to make their pain go away (hence the "aspirin"). Make it so useful that they can't help but spread the word about it because they know that others are struggling with the same exact pain point.
If your free content is something I might like and might be good for me (in other words, a "vitamin"), I may or may not be willing to exchange my email address for it.
Think about the content you're offering for a second. It's very possible you're fuming, thinking "I don't know Claire – this could be a vitamin for one person but an aspirin for another!"
Don't despair. That's pretty much the case for everyone! If your list building is going fine, you may not desperately NEED a free guide to Facebook ads. Could it help? Maybe, but improving the rate at which you get new subscribers just isn't at the top of your list. So you might not feel that subscribing to another newsletter (mine) is worth that guide I'm offering.
But there are tons of other people who are more than a bit frustrated, wondering why their Facebook ads seem to be bombing. They NEED a free guide like that – heck, they might even pay for it!
Use the copy on your landing page to convey exactly what problem it will solve (and maybe even what will happen if they don't find a solution like yours). If you can demonstrate that your aspirin will take away a major headache in their life, the right people will be much more likely to confirm their email addresses.
2. Keep your thank you page focused on just one thing: the confirmation.
Forget about asking people to like you on Facebook or tweet your link – your thank you page should have one call-to-action: GO CONFIRM YOUR SUBSCRIPTION, BUDDY. Your confirmation page is a good place to add other calls-to-action.
A big fan of testing everything I can, I tested two thank you pages against each other to see which one would bring in the most confirmed email addresses.
This one is a regular page on my website using my theme: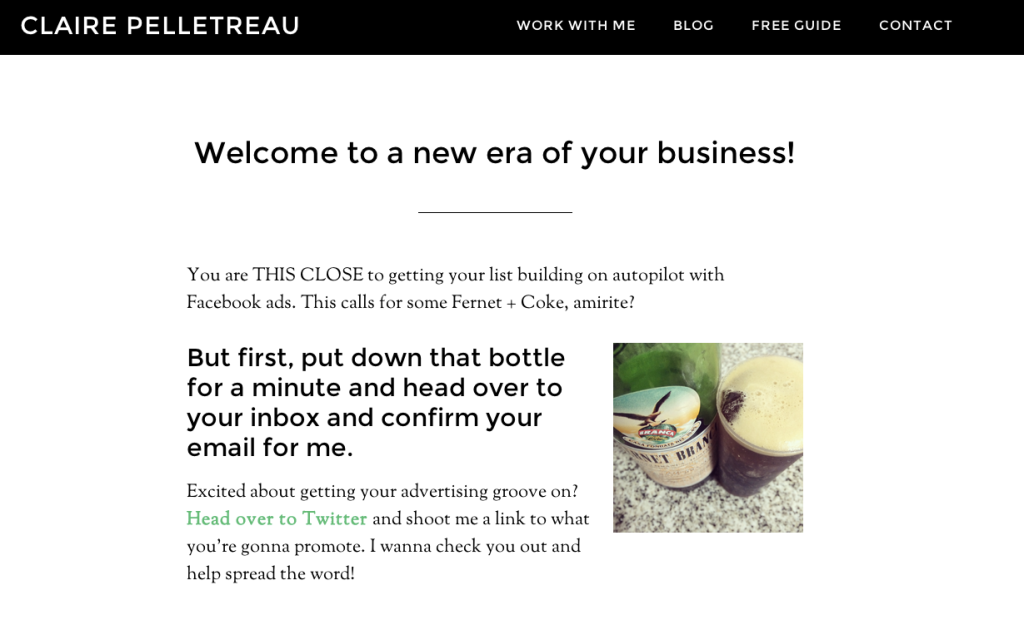 And this one is one I created with Leadpages (<–that's an affiliate link, by the way):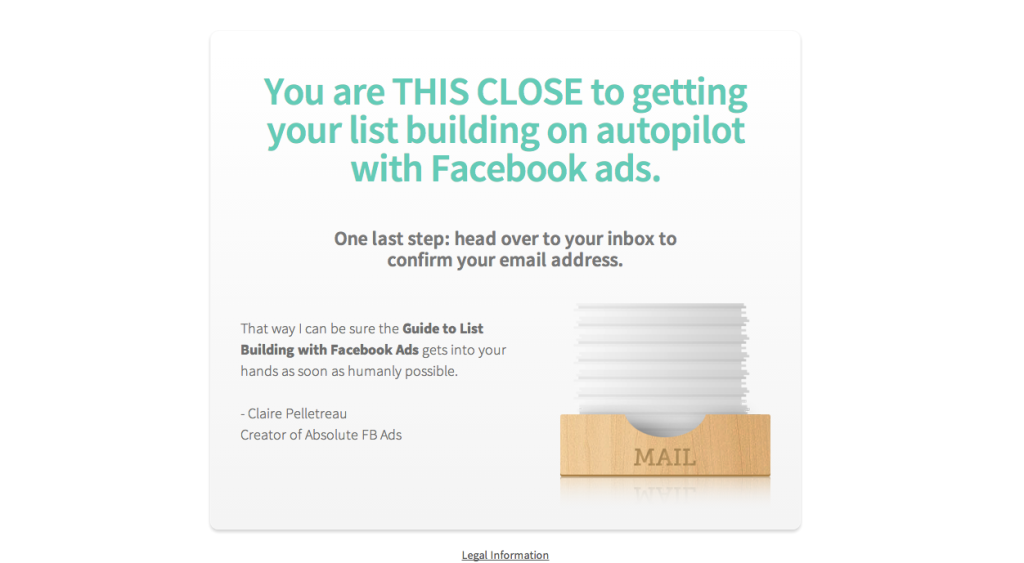 The Leadpages thank you page beat out the original by over 80%. This is the kind of test I wish I had run months ago – imagine all the unconfirmed subscriptions I let slip through my fingers!
3. Don't ignore your "please confirm your subscription" email.
There are two pieces of this email that may need a little work:
a) The subject line. You may be surprised to hear that lots of people don't confirm their email addresses immediately after opting in. So if they're signing up for your free content and then coming back to their inboxes hours later, your subject line needs to stand out in the crowd of emails.
Use the subject line to remind people about what they're going to get when they confirm their email, or what problem your content is going to help them solve. Here's mine:

b) The body of your email. I beg of you, don't use the default "confirm your email" template that comes with your email provider. This email is part of a prospect's very first impression of you! Take the opportunity to inject a little of your personality and/or brand into it, like Alison Monday of Tiny Blue Orange does: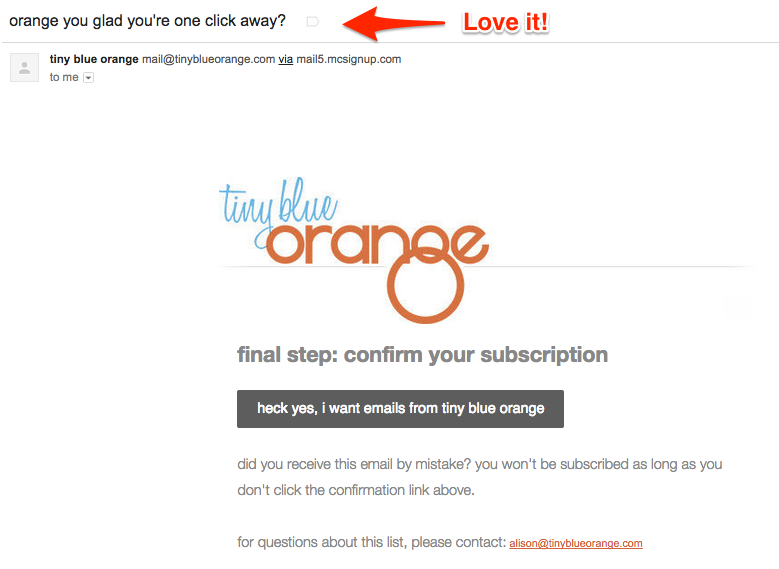 Now I would normally say to stay far, far away from the word "subscription" but Alison's quirky subject line, the colorful logo and the first-person copy on her CONFIRM button totally made my day. I was dying to confirm my subscription and get even more info about her and her business when I saw this email.
Since this is quite the lengthly post, let me summarize everything for you:
You'd better have at least one goal set up in your Google Analytics account.
Get a sense of how many people aren't confirming their emails by comparing two goals in Google Analytics.
Improve your opt-in-to-confirmation rate by 1) offering free content that's so good people will confirm their emails no matter what, 2) testing out your thank you page, and 3) optimizing the "confirm your subscription" email your email provider sends out automatically.
You picking up what I'm laying down? Awesome. :)
Now do me a favor and double-check the subject line of your "confirm your subscription" email. Not in love with it? I've got an idea.
I enjoyed the in-the-comments copywriting workshop so much that I want to repeat that format again here!
Instructions: post the subject line of your "confirm your subscription" email and a brief explanation of the free content you're giving away. Together we'll brainstorm some new subject lines together!
(If your current subject line is something generic like "please confirm your subscription," I want you to take a shot at writing a new one before I give you any feedback.)
Here we go!