This post is part of Racheal Cook's
Business that Loves You Back Blog Tour
. I'm thrilled to be included in this incredible line-up of business owners talking about what it's REALLY like to build a business that actually fits your lifestyle. (There's no bullshit about 4-hour workweeks in this puppy, that you can be sure of).
If you're like me and are constantly looking for new blogs to binge-read, you don't want to miss
these posts
.
Yesterday Shawn Fink shared
the surprising self-care tool she doesn't usually talk about, and
tomorrow Nathalie Eckdahl
is giving her own take on building a business that loves her back.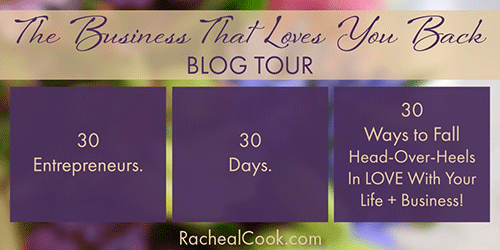 Ready for one of the most honest posts ever published on this blog?
I owe Racheal BIG time for pulling this out of me!
 "You'll never understand what this feels like!"
I was slumped over on the floor next to our bed looking up at my new husband with tears in my eyes. Don't ask how I made it down to the floor – it was as if the force of my tears pushed me off the sheets and onto the cold wood.
"I don't know if I can keep putting myself out there like this if I always end up feeling this way!"  [Read more…]