There are certain ads that are hard to resist. You've seen them, I'm sure. They make you stop in your Facebook-scrolling tracks.
It happened to me a couple months ago, and I've been thinking about this Facebook ad ever since.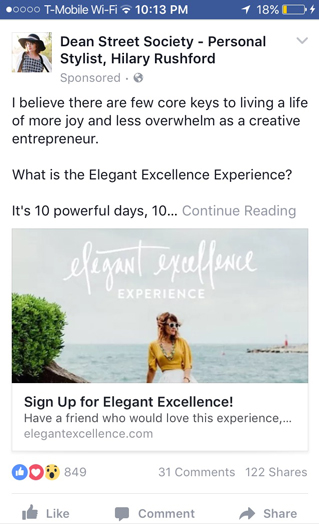 The ad in question promoted something called the Elegant Excellence Experience, a part of Hilary Rushford's recent launch. Here's a screenshot taken from my phone:
What made me flip for this ad? The copy's strong, sure, and the image is certainly appealing. I'm a sucker for a good font, so I welcome any image that looks like this in my feed.
But what REALLY blew me away – and I'm gonna guess this is what stops you in your tracks when you see something similar – is the number of likes, "reactions," comments and shares this ad got.
The Subtle But Serious Effect of All That Engagement