Last Monday I caught up with one of my star clients. She's in full-on launch mode and is working hard to get brand new sign ups for a webinar she's holding this week.
This is a woman with a steady stream of traffic, but she knows that in order to reach her revenue goals, she needs her message to reach a lot of new people.
She's struggling with the webinar ads, though. Why?
Because webinars have gotten more and more expensive to market with Facebook ads.
Let's talk about why that's the case before we get to the solution: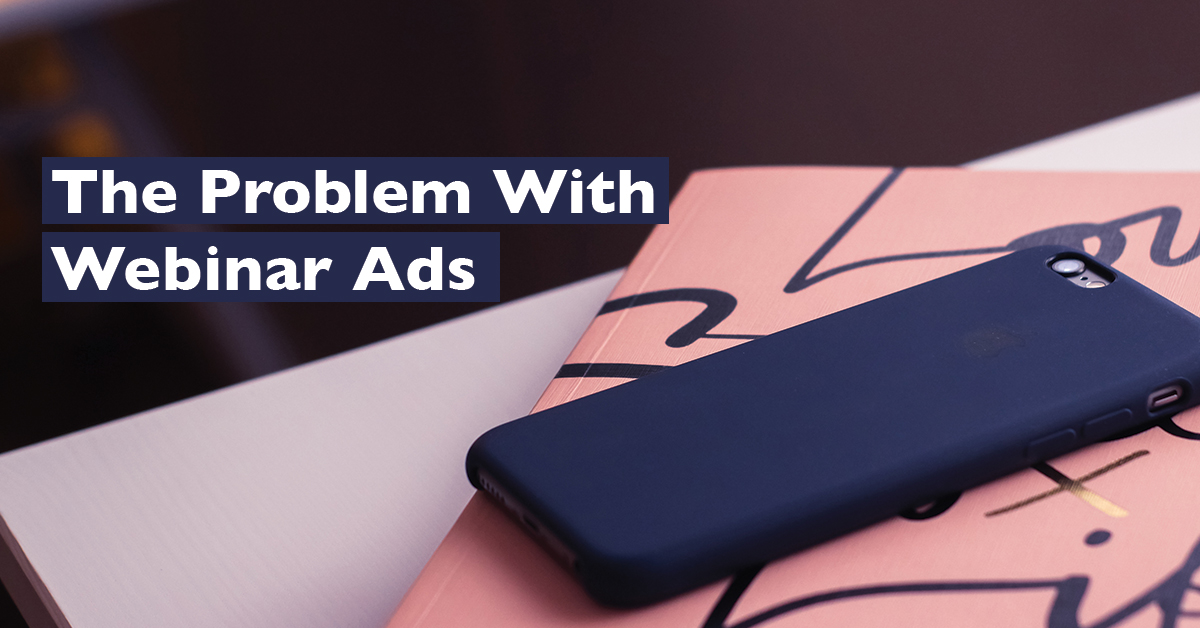 It's no secret that Facebook ads can be extremely frustrating. Yes, the interface changes every 3 seconds which is maddening.
But there are 2 things working against you that you might not even be aware of:
Cut-throat competition. Organic reach is in the toilet so everyone and their mother is turning to ads to reach new audiences. (And they're smart to do so!)
The problem comes in when all those people put together those ads and try targeting the same demographics. Marie Forleo, Pat Flynn, Amy Porterfield: they've built giant followings and Facebook lets you target their fans! Great, right?
Not exactly. When a giant crowd of entrepreneurs try to show their ads to the same group of people, Facebook can charge you more for those ads. That's problem #1.
Problem #2 is known as the Law of Sh*tty Click-Throughs.
The Law of Sh*tty Click-Throughs states that eventually, everyone will stop clicking. Even the best marketing campaign can't last forever, because its impact diminishes the longer it goes on.
For a long time, webinars were new! And exciting! A way to learn for free from the comfort of your own sofa! People were happy to sign up, and so webinars became an incredible marketing and sales tool.
Now I'm still a believer in the power of webinars. They work to get people excited about you, your brand, and your product or service. In fact, I plan to incorporate more webinars into my own marketing plan in the immediate future.
But the Law of Shitty Click-Throughs is seriously affecting the cost of webinar-related Facebook ads. It's hard to get people to take time out of their crazy-busy days to get them to attend your webinar; it's just another thing being added to their to-do lists!
Combine that with the fact that there are so many webinars being advertised in people's News Feeds, and your target audience ends up clicking less and less.
Translation: each sign-up for your webinar costs more and more. Can you afford webinar sign-ups for $5 each? I know can't.
But . . . remember when I mentioned a solution earlier in this email? Yes! There is light at the end of this dark Facebook ads-tunnel of frustration, I promise. :)
The answer to "how do I get cheaper webinar sign-ups?" is simple, but it takes time. It requires a marketing strategy that goes WAY beyond one list building ad campaign.
Let's circle back to my client who's hosting a webinar this week.
We came up with a whole strategy that included ungated content on her site, a video ad, and more webinar sign-up ads. It was a stroke of genius, if I do say so myself. :)
Problem is that she's already got a million things on her plate this week. She doesn't have time to publish that post or make a video. And I completely understand – if I could have given her a much easier solution, I absolutely would have.
So if you're planning to hold a webinar or launch a challenge in the coming months, make sure you build in enough time to develop a strategy, execute it, test, and tweak where necessary. I would hate for you to wait until it's too late (and you're stuck with $5 sign-ups)!
Wondering how promoting ungated content, list building ads and retargeting campaigns all fit together? Click here to check out my complete Facebook ads handbook, and save yourself a boatload of money AND headaches!