Remember when all Facebook ads looked something like this?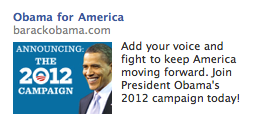 Ahhhh the good old days when all the ads were sidebar ads. The things I used to do with cat photos back in 2011 . . . but that's a story for another time.
Now things are different. Ads are all over Facebook in varying shapes and sizes. In some way it's a huge improvement – people tend to respond WAY better to ads in the News Feed versus the old ones in the sidebar.
But on the other hand, now you've got choices to make. You need to figure out what kind of ad to create, where the heck you want Facebook to display it, and how to actually make all of that happen inside the Power Editor. All that on top of getting your targeting right, deciphering what the hell an ad set is, and writing copy that doesn't make people cringe at the sight of it.
Kind of wishing for the golden era of just one ad option, aren't ya?
Don't fret – I got you covered. Yesterday I sat down to make a quick video about the different kinds of ads you can use in your campaigns. And just like what tends to happen with my blog posts, videos and plans to live abroad, things went a little…long.
So here's an in-depth tutorial about some very specific Facebook ads best practices. You'll learn 
what

your ad options are,

why

you might use each one, and then

how

to actually put them together inside the Power Editor:

(Because if you and I are going to get along, you're gonna have to get friendly with the ol' Power Editor. Deep breath – you can do this.)

Click below to watch now:
Questions?
Hit me up, yo! I love it when you guys are all up in my comments. :)