OMFG I just got an amazing update to the Power Editor.
Facebook will be rolling out changes throughout the whole month of September, but I had NO idea this one was coming. Yes, I cursed like a sailor when I saw this puppy: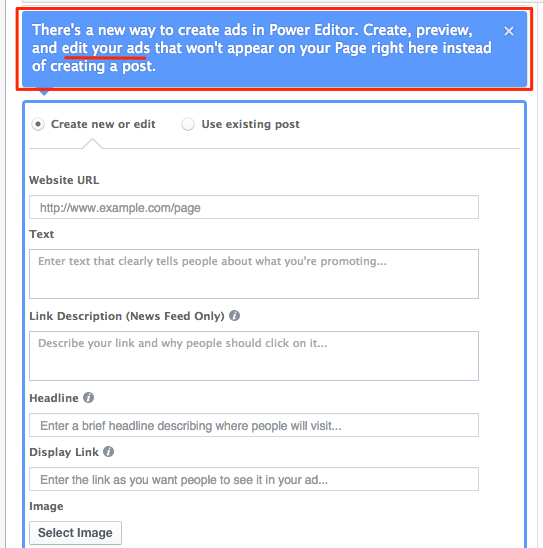 If you've used the Power Editor before, you know that one of the most infuriating things about it was that you couldn't edit your ads once you created them.
That's a feature that's available in the Ads Manager, but you may remember that I'm vehemently opposed to using the Ads Manager.
But this changes everything! Now you can create an ad without publishing a post to your page (this is called creating an unpublished or "dark" post), and then edit it.
Got a typo in your ad copy? You can fix it.
Did your image get cropped weirdly? Go right ahead and adjust it!
If you've never used the Power Editor before, I have to say you're in for a treat. There has never been a better time to master this incredible tool.
PRO TIP
This improvement makes it ridiculously easy to a/b test images or copy. However, I ran into a small bug: I duplicated an ad I had created in order to change the image. I didn't touch the copy, but I got this little error message:

How to fix it: just ignore it. The Power Editor doesn't have limitations on the number of characters you can use in your copy. Finish up what you're doing and hit the Upload Changes button. You'll see this screen:

But if you click Upload All Ads, you'll be fine. I did, and my ads are running now.
BOOM! Facebook ads and the Power Editor just got a whole lot easier.