It's amazing how accurately Facebook's conversion tracking works. It tells you how many people clicked on your ad, visited your landing page and actually signed up for your free content. Or how many people clicked and then bought your product. Amazing! Tracking your results is one of the best things about using Facebook ads to grow your business.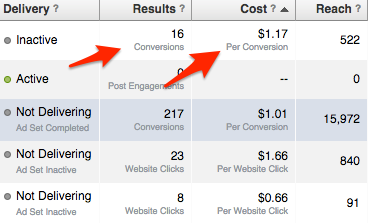 But how do you calculate your return on investment (ROI) over the long run? Ideally you should be able to look at your stats and say, "OK, I spent $100 on Facebook ads over the last 2 months. During my last launch, 4 people who bought got on my list via those ads. The revenue from those 4 purchases totaled $600. My ROI is $500."
Facebook can only track conversions that happen up to 28 days after your ad is shown. That means setting up conversion tracking in your campaigns isn't enough if you're running ads more than a month in advance.
The best way to measure your ROI over the long term is with your email provider and a duplicate landing page.
The following is how I set this all up using a combo of my website, Mailchimp and Zapier. If you don't use Mailchimp, you should be able to replicate my process anyway.
1. I cloned my main list, Blog Subscribers, since the sign-up form attached to that list is the one I have on the landing page to get my free guide. (Check it out here if you like.) The newly created list (Guide Sign Ups from Facebook Ads) would be used to collect emails only from people who landed there with Facebook ads.
2. I duplicated my landing page and changed the new page's form to the one that's attached to my Guide Sign Ups from Facebook Ads list. I also tweaked the url of this new landing page from /free-guide-facebook-ads to /free-guide-fb-ads.
All Facebook ads that I now run promoting my free guide drive people to that specific url. I don't publish it anywhere else, so I can be about 90% sure that the only traffic coming to that url is from my campaigns. (People might share a link to that url if it's the one they landed on, so you have to account for some outliers.)
3. Anyone who lands on the above url and opts in to get my guide are added to the new list, Guide Sign Ups from Facebook Ads. I use Zapier to automatically add anyone new on that list to my general list, Blog Subscribers. When they are added that list, they also get tagged with the Sign Up Location: FB Ad Landing Page.

Now when I look at my list of customers or clients, I check to see how many of them have FB Ad Landing Page as their sign up location. I can then figure out how much revenue I made as a result of my long-term Facebook ad investment.
You can find instructions on completing each of the above steps with your trusty friends Google and/or Youtube. Since not everyone uses WordPress and Mailchimp, I thought the general framework would be more helpful in this particular case.
A huge shout-out to Jamie Dubose of Zenplicity who helped me understand everything about lists and groups in Mailchimp and also turned me on to Zapier. I strongly recommend working with her if you need help setting any of this stuff up!