*Coaches: listen up because this is for you, too.
How do the biggest name entrepreneurs sell out their coaching programs and rake in hundreds of thousands of dollars in their course launches?
It's no secret anymore: they leverage a handful of Facebook ad campaigns to reach new audiences and bring in sales.
But what you won't hear in those success stories is this:
"I started promoting my course with a couple random Facebook ads and had this crazy high return on my investment."
That's just not how it works, my friend. (If only!)
Instead, they use a carefully planned Facebook ad strategy designed to maximize their budgets and make the most sales for the lowest cost.
Usually, they pay a professional $2000-$8000 to design and execute that strategy, and that doesn't even cover the cost of the actual ads!
Don't hire someone. Instead, take 30 minutes to learn (and then steal) the Facebook ad strategy I use with clients who are selling group programs or courses.
On Monday, April 24, I'll be LIVE on Facebook presenting a new master class: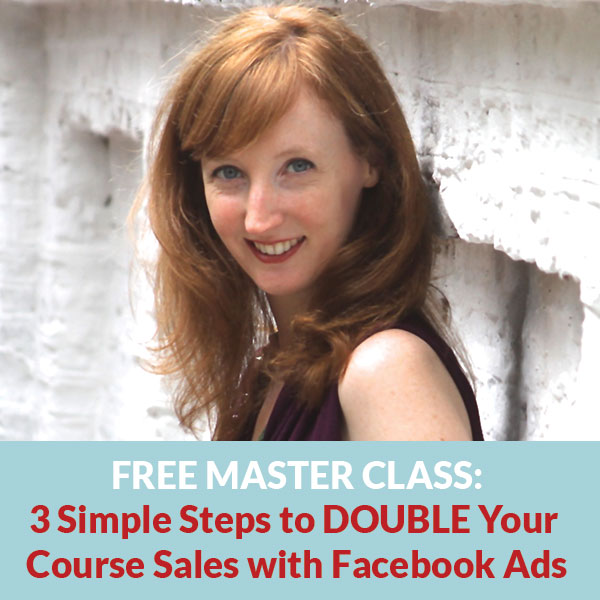 In this 30-minute session PACKED with actionable insights, you'll learn:
The 3-pronged Facebook ad strategy you can use to sell courses and programs both during launches and on an evergreen basis. (Because making sales every single day does AMAZING things for your monthly revenue!)
Why using ads to promote your webinar could completely sink your launch, and what to do instead.
The #1 thing that will make your business stand out in the sea of "gimme your email!" News Feed ads, prompting more people to stop scrolling and actually connect with your message.
The ads I run around the clock that make my money back within 24 hours – at this point, it's like Facebook is paying ME to grow my list.
Why the cheapest ads may actually be the worst ones! (This was an expensive lesson for me to learn; save your money and skip that learning curve, OK?)
WHEN:
Monday, April 24 at 12pm and 8pm Eastern (Yes, I'll be hosting this master class twice on the same day!)
WHERE:
LIVE on Facebook – simply click the Like Page button below to be able to watch and ask questions!
[efb_likebox fanpage_url=https://www.facebook.com/absoluteclaire box_width=400 box_height=400 responsive=1 show_faces=1 show_stream=0 hide_cover=1 small_header=1 locale=en_US]
WILL THERE BE A REPLAY?
Yup! But you'll miss your chance to ask questions about your specific strategy, so try to show up live if you can.
HOW CAN I GET THE MOST OUT OF THIS MASTER CLASS?
Instead of another webinar where the info goes in one ear and out the other, you'll have solid action steps to take as soon as the master class wraps up (and maybe even before)!
Sign up below to grab a worksheet I made to help you put what you learn into immediate action:
Can't wait to see you there!
P.S. Get ready to see all kinds of Facebook ads reminding you about this master class, the replay, and more. It's all part of the 3 steps!